My First Lacrosse Experience
May 2, 2018
My stomach was turning. I wanted to turn around and go home. I could just go back to playing baseball, it wasn't so bad. I was thinking there is no possible way your going to do this. But, my dad was walking behind me, and would not let me turn around. I walk in and all my friends are there talking and are completely fine.
Look how calm everyone is, no one is even going to notice, I thought to myself. Yea, but this isn't there first time. You aren't even going to be able to throw the ball. You're going to get embarrassed. Just go home. Do you even know how to put on your equipment? Alright just forget it. Whatever happens is just going to happen. It's all kids that go to your school. If you're really that bad, then you could just quit and never play again, so everything will work out.

"Hey Joe what's up?"
I snapped out of my thoughts. Then I start to think how I always get in my own head. Am I sabotaging myself? Or am I right, and I'm actually protecting myself?
"Joe!" Toph says tapping my shoulder.
"Oh sorry, just a little nervous. Sup Toph?" I say. We talk for a little and he assures me that lacrosse is not a hard sport to learn. I tell him that I've picked up a lacrosse stick twice in my life. Once when I bought it, and once when I tried to practice with it, which did not go well. The look on his face did not give me any reassurance that this was going to go well. Then coach blew the whistle for the players to start getting their pads on. I started to panic for the second time.

Do I even have all the equipment? How do I know if I'm missing anything? There's no way I have everything. Well idiot, how about you start with putting on what you have.

I start putting on my pads. The first thing was my brand new pair of white cleats.My dad just got them for me for lacrosse starting. I swallow my pride and ask Toph if I have all of my pads on correctly. He says that I have everything on properly, so I feel slightly better. We walk out onto the turf and I see everyone else. Everyone's walking on the field, laughing and joking around. And still all I can think about is how badly I'm going to mess this up. We started practice. We did groundball drills where you had to go and pick up the ball while it was moving. We did a passing drill where you had to weave the ball. Then at the end, we did a scrimmage. I couldn't guard anyone, catch the ball, throw the ball, and basically anything else that had to do with playing the sport of lacrosse. At the end of practice, I was ready to quit. I'd given up all hope. Compared to everyone else I was the worst. I didn't know the rules, and I didn't know how to play. I felt defeated. I took off all my pads and noticed that my brand new cleats were now dirty, muddy, and disgusting. When I started to walk back to my car to tell my dad, one of the coaches called me over. He told me for the first practice I have ever had, that I did great. He also said that he could tell that I wasn't confident, and that I shouldn't worry about what other people think. I should just keep practicing, getting better and better, so I could be confident. From that moment on, I knew that I wouldn't give up on lacrosse. I walked back to my car and my dad saw how dirty my cleats were.

"Must've been trying hard right?" my Dad said.
"Yea, I guess you're right" I said realizing it wasn't all so bad.

Then my dad told me we could wash the cleats when we went home, so they would look nice again. I went on to play for the B team for wyckoff, which I was completely ok with. We played pretty well, and everyone on the team got progressively better through the season, including me. I learned to catch and throw, the rules of the game, and how to put my equipment on properly. Believe it or not, we ended up winning the championship for the B league bracket in one of the most exciting games I have ever played. I will never forget the season that started the rest of my lacrosse career.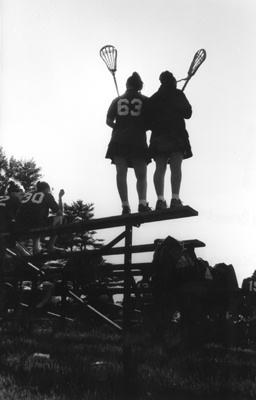 © Hadley B., Marblehead, MA