Small Businesses Are for Everyday and Everybody
April 26, 2018
My parents owns a tire shop in rural Jackson County.  There are several smaller communities that don't have a lot of services offered in their towns.  By having a tire shop outside of the city, the hope was it would provide a service to those smaller towns as well as the people that live in the country.  However, the downside to that is you have to provide the service and pricing that people from in town will drive out to the shop for.  Without the support of the entire community, the business would not be possible.

Hello, I am the daughter of a business owner as well as a granddaughter of a business owner. Small businesses fill most of my heart, from an excavating company to a tire store I've been around it all. My definition for a small business is a business that is just as important as a corporation except a small business cares about the community that they are located in. I would personally say that small businesses are very much important to me as they should be to everyone.
You will be surprised how many small businesses you can think of when you sit and think about it. Now instead of thinking about that why don't we listen to my speech so I can make you think twice about shopping in a big corporation?
5 months ago I went to an interview for a grocery store. During my interview I got asked if I wanted to be in charge of social media since they found out I was in journalism and that I loved doing graphic design. I of course was extremely happy that I got offered this position. One month later I am posting on the grocery store's Facebook Page and setting up a Twitter and Instagram. I ended up getting my own email and started having weekly meetings. I worked with a lot of confidential information about progress, opening dates, deliver dates, as well as employment applications going as far as who was hired and who wasn't. I saw the progress of the grocery store. I saw the frustration and happiness through these past four months. These last 5 days I was up late working on things to get the grocery store open. I was up until 2:30 in the morning just to sleep for a few hours to go to school for 8 hours just to go back to working right after school. Finally, this past Wednesday I had the opportunity to be a part in the Grand Opening of the grocery store. Through these past four months I realized everything can't be done in a snap of a finger and a lot of unimaginable things go into creating a business.
So, I have a project for myself and that is to improve businesses and the community. I hope that when I speak to someone about small businesses and why it is important to support them, they will start shopping at more small businesses and tell their friends about them also.
Some of the benefits of a small business are that they create jobs in the community, tax dollars stay local, they give back to the neighborhood, better customer service, and my favorite is special discounts. Now the list of benefits could go on forever but I'm not going to do that to you.
Small business provide a feeling that something is actually behind the business, that someone cares about giving the community a product or service they need and not just about getting money.
In Kansas, according to the Kansas Small Business Administration, there are 244,273 small businesses. Over 595,000 workers are employed by small businesses. In 2016, Kansas grew at an annual rate of 2.3%, which was faster than the overall US growth rate
In the United States based off of the U.S. Small Business Administration there are 28.8 million small businesses. That accounts for 99.7% of the businesses in the United States. Small businesses add 14 million jobs with 39% of those being from very small business with less than 50 employees.
So the next time that you have the choice of shopping at a big box store or a small business I hope you choose the small business.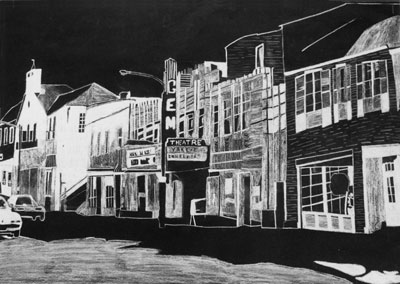 © Chelsea P., Kannapolis, NC