Finally, a Teen's Opinion
April 9, 2018
The walkout that took place at my school was just one of the many walkouts among the nation on the fourteenth of March. The walkouts were supposed to be a student conducted protest against the current gun laws, but also serve as a public memorial for the fallen lives in the recent Florida school shooting. When some schools realized how many students would be participating they made school-sanction walkouts. But what does this mean for the students?

On the fourteenth of February there was a shooting in Marjory Stoneman Douglas High School in Parkland, Florida. Seventeen teens were murdered and fourteen were left with injuries in the process. The shooter, Nikolas Cruz, has pleaded guilty in order to avoid the death penalty. One month later students planned to orchestrate a national walkout.

The night before the walkout teens were sharing the message all over social media, which caught the attention of school officials. Some children didn't quite grasp what the walkout was really about, but those who did were actively speaking out on how their peers should address the walkout and attempting to inform them on what to do.

My school decided that having students legitimately walk out wouldn't work— so they told students that if they went outside that there would be consequences such as write ups. So children and teachers noisily crowded the gym and sat there murmuring among each other for fourteen minutes, then the teachers kicked them out. Of course, there were a few people who sat silently for the whole seventeen minutes, but the overall event turned out horribly meaningless. As the students went back to their classroom some nagged about how 'lame' the event was, some even daring to say they 'shouldn't have had to be quiet because they didn't shoot the kids'.

Some schools allowed children to walk out of the school, but some teens just missed the message. A neighboring school allowed students to walk out of the building; some students brought signs and gave speeches, some stayed silent, and others took the opportunity to simply get out of class and converse with their fellow classmates.

My, and many other students, problem with all of this is that by enforcing a specific place and using threats against them to make sure they don't actually walk out rids the entire purpose of the protest and fogs the opinions and stances of teenagers. Some adults are particularly scared for the future of the nation because they're concerned with the minds, opinions, and morals of the upcoming adults of my generation. We could all blame the media for the corrupted thoughts of the Generation Z age group, but there's so much more to that. There's a particular group of adults supervising our generation that have taught children to unthinkingly agree with the popular opinion.We are heavily judged for not having any opinions but the moment one of us states an opinion we are quickly shut down.

The hypocrisy of some of the older generations is what I find to be holding the newer generations back from being the leaders we're expected to be. We don't know what our rights are because we aren't taught them, and even if we are, we aren't taught how or why to use them. We've been distracted with things of no importance that turn children away from entertaining their basic human rights and what they can do with them.

There's many children who don't have a full understanding to their surroundings in my age group, but those who aren't are trying to find ways to be heard everyday by small acts. Standing outside for a few minutes in silence may seem like it doesn't do anything, but it can kindle a spark in teens that can show them what they're capable of.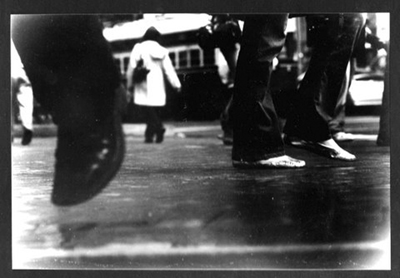 © Alex B., Bethesda, MD