Journal Entries
April 5, 2018
Elizabeth
Friday, March 16, 2018
As a project for my English class I chose to improve my writing skills by writing three journal entries.
As it is a Friday, today is the end of the work week and the end of the first week back at school for students after internship. I am happy to be back with my friends and hear about everyone's internships, but I am also excited for the weekend.
Tomorrow is Saint Patrick's Day and I am excited to drive through the city and see everyone celebrating. This week has been eventful with everything from homework assignments, projects and sports practices, to protesting gun violence and remembering the victims of mass shootings — specifically the 17 victims of the Marjory Stoneman Douglas High School shooting in Parkland, Florida. On Wednesday, March 14, high school students around the country participated in the national school walkout, leaving class at 10:00 a.m. to commemorate the 17 victims for 17 minutes. Wednesday marked one month to the day since the February 14 high school shooting in Parkland. It is difficult for me to find words to describe my feelings about this tragedy and gun violence because I often feel shut down. There have been too many lives taken by these steel contraptions whose sole purpose is to kill. However, there has been no change in law or policy, which upsets me especially given that there has been a pattern in most of these mass shootings — the shooters suffered some degree of mental illness or bullying. Given this knowledge, it baffles me why there are not more significant background checks on individuals purchasing firearms or why people who knew these shooters did not speak up about odd behaviors in the individual! Why didn't they say something to anyone?! Despite my beliefs I feel like I am in an awkward position to even discuss this topic as my relatives own guns for recreation (hunting and sport shooting). I feel almost hypocritical saying that people should not own guns given my situation.
It is saddening that with each day the number of victims to gun violence increases. This movement has been emotional and frightening because it sheds light on the idea that nobody thinks they will be the next victim of gun violence until they are. I am scared for who's next as devastating as that is to think about and say.
Saturday, March 17, 2018
This morning I went to lacrosse practice following yesterday's lacrosse scrimmage — the first of many this season. Lacrosse is a spring sport and I'm bewildered as to how we are in the spring sports season when according to the weather it is currently the dead of winter.
After practice, I went home and played with my puppy after my family finally decided on his name, Owen. I showered, worked on homework and ran errands downtown, which was definitely the highlight of my day seeing everyone decked out in their green and walking through the city streets. Seeing so many spirited college students made me think about next year and how fast this past year has flown by. I can't believe it's already spring break and the end of March! Everything is coming into focus and becoming so real — I don't know how to feel. I can't wait to meet everyone in college and make memories that will last a lifetime, however I'm sad to leave my family and friends back home. I have been thinking about how quickly this year is coming to an end a lot lately. I need to keep reminding myself that we still have a couple of months until the end of school and after that we have summer before embarking on the new adventure of college. I can't wait to make the most of my time left in high school and look forward to creating more memories in the many months to come!

Sunday, March 18, 2018
This morning was Owen's first vet appointment and he's already 10 pounds! I had rehearsal for Jazz Band today and it was weird to see the school totally empty. I feel lucky to be a part of this group of talented students and teachers. It has taught me a lot about myself as a vocalist, teamwork, working to meet deadlines, and giving something your all. Everyone in the band shares the desire to be with one another doing what they love — playing music. Being a part of this band has given me more self-confidence in many aspects of my life particularly in music. Before this year, I let my nerves and my perceptions of other individuals' thoughts about me play a bigger role than it should in my music experience. Now, given my positive and supportive experiences in Jazz Band, I am confident in my abilities and feel comfortable doing what I love. During this rehearsal, I met with Wes and laid out what the next few weeks will look like leading up to the Spring Concert in April. We worked on our group finale song and it was exciting to see everything come together so seamlessly. The song, Sir Duke, is by Stevie Wonder and makes people want to dance whenever they hear it. I can't stop smiling when I hear this tune and I am looking forward to performing it.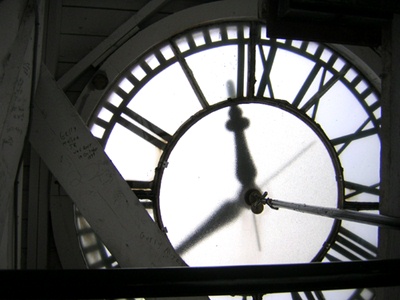 © Tatyana Z., Norwood, MA