Why Am I So Fearful?
March 26, 2018
This question has been running through my mind lately. If God is so great then why do we fear? If my grandpa had heard me ask that question he would of looked at me very sternly and tell me that I knew exactly why. My Grandfather is a pastor and my mama is the preachers is a christian author so with her being a christian author and my Grandfather being a pastor I should know the answer to that question. Why am I so Fearful? Why do we have Fear?
I am one to hide what my opinion is in order to just to fit in with everyone else. I am not the leader type. I do what I am told, as long as I am comfortable doing it, and then I just follow what the leader says. I think this topic though is not one that I can follow someone around on and just listen to the other person talk about fear for an hour long. I think that there is fear because the Devil is real. He loves to play mind games. The Devil's whole goal in your life is to make you go against God. He hate's the fact that God has all power.

Fear started way back in Genesis, just like how everything else started in this world. Genesis 3:8 says "Then the man and his wife heard the sound of the LORD God as he was walking in the garden in the cool of the day, and they hid from the LORD God among the trees of the garden." The reason they hid from God is because they were fearful. They feared the punishment that would come from when they ate the apple from the forbidden tree.
Adam and Eve were the first to witness fear and actually feel it. They fell into temptation and were fearful of God. So when we look back to why are we fearful? It's because just like Adam and Eve, the Devil is playing mind games and trying to push you into temptation.

What are some things you fear? Pull out a pen and some paper or simply write them on your phone. I know I can name at least 5 things that I fear the most. Some of the most silliest things too, such as spiders. I am awfully afraid of spiders, but what can I do to change that fear? Isaiah 41:10 says "So do not fear, for I am with you; do not be dismayed, for I am your God. I will strengthen you and help you; I will uphold you with my righteous right hand." God will always be there for us and he will never leave us. You just have to realize that some things you are afraid of you cannot change. Such as military deployments.

My dad was in the Army for many years and in those years he went on 3 deployments and there was nothing I could do about it. I remember one of my birthday's I had gotten flowers from my dad while he was in Iraq at the time. That I night I was crying in my bed and my mom asked me what was wrong and I said that I wished daddy was home. Being the oldest child of 4 I always felt that I had to put on a brave face in front of anyone and everyone. I can only think of a couple of times where I had actually broken down completely. I was so scared that my Dad would not come home, but it was out of my control.

Just like how I could not control my Dad going to Iraq sometimes you won't be able to control your fears, but instead you just have to face them head on and say "In Jesus, name you will no longer control me." and walk past it as if it never even existed and someday's it will not be easy. Just remember that God is the God of the ENTIRE UNIVERSE!!!! He has got your back and he isn't going anywhere. Now if you say "But, I don't think I can do it." let me just quote an 11 year old girl, Bella Robertson, "Is it you that is talking; or is that the fear?"

To be able to overcome fear you must know what you are fearing, so what is your biggest fear that is keeping you from being able to shine? What can you do to overcome it? Is it out of your control? I know my mom, my new brother, and my boyfriend have said that "if it's out of your control, why worry?" I just recently found a verse that I think might shake my world, Matthew 6:34
"Therefore do not worry about tomorrow, for tomorrow will worry about itself. Each day has enough trouble of its own."
Why are you so fearful and what can you do to change it?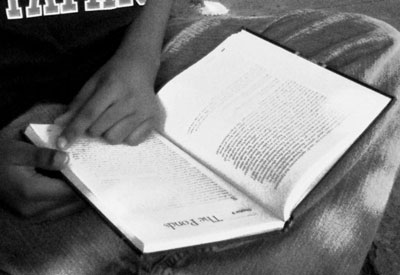 © Allan L., Plano, TX