Lifting My Feet Up
March 20, 2018
For as long as I can remember, my mom has always reminded me that I was a strangely happy child. When I was three, my mom and dad found themselves exhausted, working endless shifts as residents at New York Hospital, but bringing home surprisingly small paychecks. When my mom was lucky enough to get a day off, she would take me on adventures all over New York City. Some days we would come home exhausted after traveling all the way to the Upper East Side to play at John Jay Park. Other days we would find the nearest Jamba Juice and share a cheap drink or snack. She would dash around running errands, pushing me along in my $25 stroller from Target. Although the majority of her young professional peers in New York bought the expensive Maclaren Stroller immediately post childbirth, my parents opted for the inexpensive but functional umbrella stroller model.

One day she was taking a run on the Brooklyn Bridge while I accompanied her in my stroller. The East River looked magical that day, the sun glistening on it while the light wind broke the blue surface into tiny waves. It was particularly warm out and I can remember watching a red-tailed hawk soar across the sky, claiming the world as its own. Around four miles into the run, a large pothole appeared in the center of the path that apparently was not visible to my mother from her position behind me. By the time she wrestled the stroller out of the hole, the black footrest, that magical rubber strip that had kept my feet floating above the dirt and grime of the New York City pavement, had torn loose and was hanging limp like an old dish rag. After a minute of my mom cursing under her breath, she became calm and promptly folded the broken stroller up and lifted me into her arms. Once I realized that my beloved stroller could not be used anymore, I began to question why. My mom explained that the footrest was broken and without it, my feet would be trailing the ground. I could sense that my mom was fairly stressed about buying a new one because money was tight, so I told her I would be happy lifting my feet up and continuing to use it. At first, she was skeptical of the idea, but after I showed her how simple and harmless it was for me, we continued our journey home, with me in the stroller. We were far from our tiny apartment on the west side so I ended up holding my feet up for a very long time.

Although I barely remember this, my mom claims that I didn't complain once while using the broken stroller and even told her she didn't need to buy a new one. I would be perfectly content lifting my feet up if it meant I could help reduce her stress. This story has served as a reminder of the person I have been and who I want to be. I feel as though it is something to live up to because I certainly want to be a better person now than I was at age three. I have found that when I am in a predicament, I often bring up stories like this to help me. When I think of myself being so young, yet so easy going and carefree, I feel proud and confident. This specific example of me putting others before myself alludes to the person I am to this day. I attempt to help those who I am close to, and people in general, be happier, even if it means my life will become more difficult as a result. Because of this story, I know that I have always been easy going and easily pleased. However, many physiological studies show that you are in fact a very different person than you were ten or so years ago. This causes me to question if I am similar to myself in the past because of my genes or partly because of stories similar to this who remind me who I am.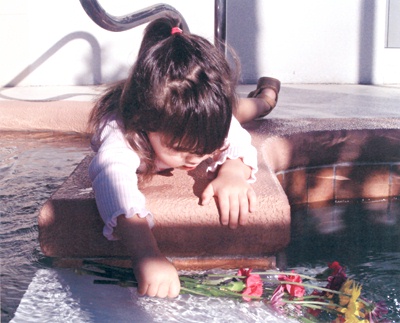 © Courtney C., Palm Coast, FL