Rodeo Saved My Life
February 26, 2018
Life's one big journey filled with constant hard decisions and mistakes, but it's up to you if you want to embrace those mistakes and make the right decisions.

That advice did not stick in my head until my junior year of high school. I didn't make hard decisions, I just went with the crowd and made the easy decisions. That didn't get me nowhere, and soon enough I was on the path of going nowhere in life.

I don't know what I did to deserve it, but God put the biggest blessing in my life after all the bad decisions I made. He gave me the opportunity to make a better life for myself, and by doing that, he provided me with a really fast patterned barrel horse the summer before I turned 17. Before the blessing, my life was one big wreck. Being a normal teenager and rebelling against your parents is one thing, but to rebel against the law is another thing. High School didn't help me much, especially after falling into the category of the rough crowd and hanging with people I knew in my heart that I shouldn't. This got me in a lot of of trouble and off track which led to the hard decisions I had to make along with the various mistakes that I had to make to get to where I am now, But I believe that God put those decisions for me to make right in front of my face at a young age, to be able to make better decisions when I got older.

After all those decisions that were made before God put that blessing in my life, times were tough. I didn't get along with my parents and I pushed my friends away because anybody that tried to help me, I wanted them far away from me. I was scared to let people in for the fear of weakness brought onto me, I didn't want to be weak. I had been strong for so long, I didn't want anything to bring me down now.

Soon enough, I got knocked off my high horse and got in some trouble at school. I disappointed my parents plenty of times, but this mistake got them good, along with my friends. So I spent time in alternative school where the "bad kids" go, but I feel like this was God telling me to straighten up and act right, so I did.

I began doing right. I worked hard to get my grades up, I worked on my relationships with my family and friends all because I had things pushing me. College rodeo and the thought of going to college and getting a degree one day and get a job doing what I love the most, working with horses.

My life would've spiraled out of control if it wasn't for my passion for horses and the love that I have for the sport of rodeo. So I began working endless nights and early mornings with my new horse, chasing that dream that would help me redeem those mistakes that I had made. I got the opportunity to get a job working with horses after school, a part time ranch hand. I spend all the money I earn either on rodeo or stuff that will help me rodeo, I spent the whole summer working and riding. I was gone to a barrel race every night, met new people that make my life better and don't bring me down. They encouraged my dreams, and push me to have a better relationship with God.

I never gave up, even when I would leave a race with an empty wallet, no gas in my tank, and aching bones. It even pushed me, it was my new escape. It allowed me to enjoy the good things in life, even when there was always bad things happening. Rodeo allowed me to have bigger dreams other than whose party I'm going to this friday night.

It saved me from the person I was becoming and I never want to let my dream down and I never wanna give up on myself. I believe God placed that horse in my life for a reason, along with those good people to wake me up from my bad dream. It worked too.

I've never been a person to believe in having something drive you from within, from your heart to push you, but now I am a firm believer. I believe you can have a passion that can raise you up from a bad place in life, and can be your crutch, but soon enough you will have to walk on your own two feet and learn how to rely on yourself for your own happiness instead of others.

Rodeo saved my life, put God in my heart, and surrounded me with amazing people who I plan to keep in my life forever. I have the drive to make my family proud, but at the same time, I am proud of myself for making those mistakes and finding my passion through life's journey and pushing through those hard decisions.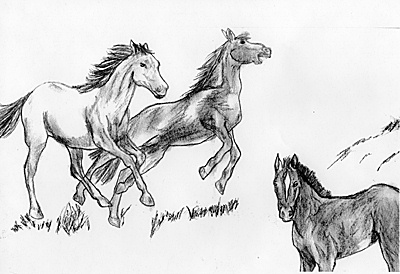 © Ali A., Eau Claire, WI