Burying My Childhood
February 21, 2018
The spring air was warm and moist in the West Texas town of Post. All of the vegetation was exploding with vivid green flashes, contrasting the red dirt surrounding. I had come to see my great grandmother, whom was becoming very ill and may pass away. It was going to be last time I ever saw her.

Born in Axminister, England in March of 1923. She lived a normal life until World War Two started. She joined the workforce and made fighter plane wings. Since the war made so many American GIs come over to England, she would go out and woo the American GIs with her friends. She didn't know that one man would actually sweep her off her feet, who would be there for her, JB Jones, my Pa. They married in her hometown and moved back to JB's hometown back in Texas, Post.

Doris Edith Jones, made it to America to start a new life. She would live on a ranch with her loving husband and would later have two kids, Vera (my grandmother) and Greg. JB worked on ranches near or around town, so they weren't very rich, but they were happy, living like the settlers of the Old West. She would stay with the man who took her across the pond for 26 years until the day he died, Christmas Eve of 1970. She loved him with her dying breath.

In my family, we don't speak or see much of each other until someone dies or severely hurt, meaning there was a lot of catching up to do. We all gathered during Spring Break to give our regards and prayers. It was hard for everyone, especially for me, my brother and my mom. Almost exactly two years before, my dad had divorced my mom while she was teaching school. It damn near killed us, and now we had to deal with the death of someone who was very close to us.

Everyone stayed the entirety of the week to see Nanny. Most of us stayed in various hotels in town, as she stayed in her bed in the retirement She was unresponsive, lying in bed as if she was just asleep, but wouldn't wake up. She lied there, like a statue hooked up to life support machines. She never did seem alive in body, but only in spirit. I kept thinking, why her. Why did she have to be the one, and not my dad. I never felt that way before or even now. I spent that night at my cousin's house right down the street from the retirement home. I didn't sleep well, as my mind was just racing a million miles an hour, thinking of what has happened. It was around 7 or 8 when I got up, and everyone was pretty down and quiet. I didn't think much of it at the time, but they told me that during the night, Nanny had passed.
The family had decided to have the funeral at the First Christian Church in Post. It was a somber few hours. It was filled with some laughter, some crying. The funeral was nice and long, just enough time for everyone to say what they wanted to. Everyone had changed their demeanor to a very serious mood. We all got in our own cars and drove behind the hearse towards the cemetery. It was one of the longest drives, but yet it was a short distance.

We all pulled up to the gravesite. Everyone walked to the seats to watch the pallbearers carry Nanny out of the hearse. I didn't follow everyone else. I didn't sit down. I went to the hearse with my brother, my uncle, and my cousins to carry my Nanny to her eternal resting place. I was only 12 years old, emotionally broken by a previous divorce, carrying a loved one to their death.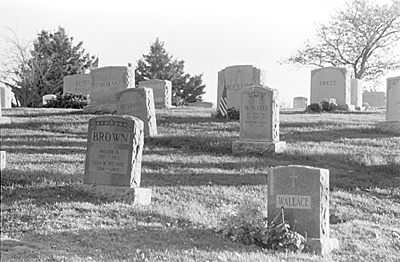 © Jenna H., Marblehead, MA