Baptized
February 21, 2018
The air in my dad's house seemed stiff as if a strange distance was put between my father and I. It was Christmas Day and I was ten and eager to celebrate. Naturally, I was excited to open my presents with my brother as our father watched us. As I began to rip into my gifts with a gigantic smile, I looked up at my father sitting on the recliner over us. He has put on a fake happy face for me. His mouth tried to curl up into a smile, but his face was brick red with tears bulging up, trying to force not to fall. My genuine smile sunk away and I slowly shoved my present from my lap. It was arguably the saddest Christmas I'd ever experienced.
The next few months with my father was difficult to watch. I would almost never see him when I came over for the weekends. He'd hide in his room or in his office doing who knows what. I knew he felt lost and defeated in his life. I couldn't stand to see him like this when I did see him. The whole house seemed like a gaping hole. Deep, dark, and difficult to see the way out. My brother and I didn't know what to do to help him.

A little while later, my mother, brother, and I went to church one Sunday. Little did I know I'd find the answer as unexpected as it was. I wasn't listening too closely to the sermon as I didn't quite understand what was being said by my pastor. For an hour, I sat and watched him no grasping the adult message. However, just as the sermon was coming to a close our pastor, Bj Rutledge, gave me the answer. He announced that next week a special guest would be coming to speak with him, David E. Stanley. At first, this name didn't do anything for me. My eyes were still wondering around the stage aimlessly because I could never keep still. The next thing he said I was not prepared for. That the special guest was Elvis Presley's step-brother. There my prayer was answered. It made perfect sense to me. My father was an Elvis freak. As I entered the hub of the church, I saw a desk that had invitation cards to bring people to church the next weekend. They promoted that Elvis' step-brother would be there to join BJ for a sermon. I picked one up and held it in my hand for a moment, studying the information carefully. I then gently put the card into my pocket and left with my mother and brother.

The next week, I found my father walking around around the room headed towards his room. I stepped up close to to him and told him I saw something that might interest him. He gave me a puzzled look as I pulled out the invite card and placed it into his hands. He stared at it and back at me. He was sold. I knew it had intrigued him, he was the biggest Elvis fan I knew. That settled it. That Sunday, my father, brother, and i were going to church.
Two days later, we were standing in the hub. My father dressed up and looked the part, but I could tell he felt awkward as it had been years since he'd stepped into our church. He avoided nearly everyone and entered the service areas where he found a seat in the upper level. The music started and he stood and listened. It ended around fifthteen minutes or so later, and finally the time my dad was waiting for had arrived. BJ walked onto the stage and gave a little introduction for David as he came out. People cheered as he came out and were genuinely enthralled, my dad sat still but I knew he was bubbling too. As the sermon went on many were shared on Elvis' childhood, career, and relationship with his step-brother. During it all, I must have looked over at my father a couple dozen times to see how he was reacting. I could see he was intensely listening, but also truly smiling.
Of course since it was a church sermon and not just a story session, David and our pastor began discussing the relationship Elvis had with Christ. I saw my dad's face shift to a more serious tone. As we walked out of the doors and into the hub, our pastor stopped my father and wanted to talk because it had been so long since he'd seen him. They talked privately but I could see the casual conversation had grown emotional. My father bowed his head down and I saw BJ whispering next to him and bowing his head down as well. They were praying together. My father never did this. I watched the two men who barely knew each other grow a stronger spiritual relationship together. As my dad raised his head, I once again saw my dad with tears in his eyes. These were different though. They were happy apologetic tears. He said his goodbyes to our pastor and made it a plan with us that he was going to be baptized the next time a baptism was to be held. A couple of weeks went by and my father, brother, and I all got baptized together. After that experience my dad had gained a much happier outlook, and I'd never felt closer to him. He has never been talkative or social, but I felt that he was at least trying harder to be. I saw a different side to him.

Now in present day, seven years have passed and my father has fallen back into his bad habits. Except now, they were worse. He goes out into the storage building where he keeps his work truck and spends hours out there. He also goes out on several dates on weekends, leaving me alone for quite some time with my brother, if he even decided to stay home.

I don't like the behavior he tends to fall into. It makes me unhappy and irritated all at the same time. I couldn't figure out why this kept happening, until a week or so ago when he passed me in the kitchen. I had been watching Tv and was about to make myself lunch. He looked at me and asked me if I'd pause my show and sit down at the dining table with him.

This caught me completely off guard and I hesitated for a few moments, it felt like forever till I headed to the table. I lowered myself into a chair, my heart racing because I felt I was going to hear horrible news about a family member or some financial problem. My dad sat down with me and started wiping the table dryly with his hands. I watched him doing that for a few seconds until finally he spoke.

He then proceeded to tell me that his former girlfriend from eight months ago had reached out to him. This was not at all the news I was expecting and was momentarily confused he sat me down to tell me that. He then said she had apologized to him for what caused the break-up and that she missed him. He missed her too. They both wanted to get back together with each other, but there was one problem. She had told him there was one reason it may never work between them. My brother and I. My heart dropped when he said this. Why would this be our fault and how? He told me that we have been disrespectful to her because we ignore them. His eyes welled up with tears and broke me when he said to me, "My happiness is on the line because my children don't know how to behave. It isn't fair. Don't I deserve to be happy?". A single tear streamed from his right eye and began crying with him.

It then clicked in my mind of why my father was upset at Christmas many years ago. It was because his girlfriend had broken up with him a few days prior, and I was partially to blame. I've never intentionally meant to be rude to anyone my father stars to date. For me, it is just that I find it weird to be around these women because they are not my mother, and never could be. When I took my dad to church he was fulfilled with his spiritual relationship, but he did not have an affectionate one. He had gone out on these dates and stays locked up in his room, office, or storage building because he is bored and lonely. He didn't want to end up as his dad, alone at home with no one to be with.

I have no right to stand in the way of my dad's happiness. I am a person who is reluctant to change and that needs to stop. I hope in the end my dad can be reunited with her, and that I don't interfere any longer because of my own personal issues. It isn't fair that I do that to him, even if I didn't realize that I had.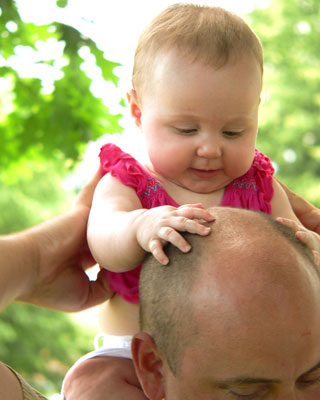 © Lukas D., Conway, AR