The Feet
January 17, 2018
Myself , my father and my sister share similar memories through feet. My father and sister once shared my story, but I'm the last one carrying on the journey as if survival was its only purpose for the remainder of time.

Sister's feet are smooth like a pebble and my father's are rugged like a path of gravel, still showing the signs of what we shared. Holding on to pain, holding on to memories, and holding on to the feeling of grass enveloping our feet every time we take the field. Like my father, I carry on his role, I carry on his dedication, and carry on his love for the sport. Like my sister, I never give up, I never stop doing what I love, and I never let anyone or anything get in my way.

Like little steps, it takes time to progress. Like little moments, it has the power to change everything. Like little setbacks, it takes determination to overcome them. Much like the times we trained together, through the snow and rain, we were bound together like glue. We stuck together no matter what and we made each other better. Though I long for the days to reunite, we share many memories through the sport of soccer.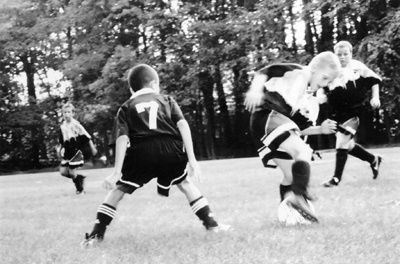 © Daniel W., Mount View, NJ