My Brother's Dad
January 11, 2018
My brother and I have two different fathers. Mine left and didn't bother us, but my brother's is the opposite.

I was 11 when my brother was born, and we still lived with my grandparents. I already didn't like his dad, just because of his attitude. He would say things like, "You know that thing you like? Yeah, it's worthless and a waste of time." "It doesn't matter if I live here or not, I'm the adult so I have control." I was sensitive, and he was rude, and we really didn't clash well. With my brother, he was a lot different, and I liked it that way. I don't like people being rude to my brother. He wasn't so much different with my mom though. She would do so much and it would never be enough for him. That just made me angrier than I already was. Some time after my brother was born, he had a surgery. It was that kind that made it easier to lose weight. He only got that surgery so he could have another one to fix his knee. He was always sick and wasn't allowed to walk around or go to work, so he was usually on the couch.

The summer after my mom had my brother, we moved to Missouri. It was a small town about 30 minutes from St. Louis, and two hours from my grandparents. The school was big, there were around 150 students in my seventh grade class, and it was divided into four sections named by color. I was in the "red" group. I would walk to the bus stop, go to school, go back to the bus stop, go home, and watch Netflix in the living room until my brother's dad got back. When my mom got home, they would eat dinner and go to bed. I didn't eat. I don't think I ate in his house unless I was alone or if I had friends over. If they fought, either it would end in a couple hours and he would go to the couch, or my mom would start packing, and I would have to feed my brother on the way to my grandparents to make him go to sleep. I ended up switching schools four times that year.

When they fought, it always started with something else. It started with me, my brother, my dog, the couch, dinner, work, and especially, money. My grandma really didn't like him, she told me that. My grandpa didn't like him either, and I didn't know that until there was one day after I had moved back to my grandparents where my mom and my grandma were fighting over whether she should go back or not. My mom was screaming about how she hated her life, which scared me. My grandpa and I were in the living room opposite the room my mom was in, and he said something to me along the lines of, "I know this is a rough time for you two, and I want you to know that we love you, and if anything happens at all you can call and we'll come get you." I think that it's the only time I've ever seen my grandpa that close to crying.

I lived there from August to around October, then moved back home, went back for Christmas break and was back at my grandparents by the end of seventh grade. Their first breakup was because of money. I can't remember what the actual fight was about, but I know that I was sick with a fever when we packed up and left. I lived with my grandparents while my mom moved back for a couple months, with me visiting on the weekends, but when I visited for Christmas break, my mom told me that I had to move back. The second breakup was about my dog. I had gotten a new puppy because my mom felt bad for having me move back. I took care of him, I cleaned his messes, fed him, cleaned him, and let him out before I went to school. My brother's dad said that he either needed to stay outside or upstairs with me because he didn't want him to get the carpets dirty. My mom didn't like that, and they started fighting about my dog, and then me, and then they got to picking at each other's every insecurity until my mom was done with it. We moved, and he left us alone for awhile. He had moved back in before I started eighth grade. My mom bought her own house right before I had finished seventh grade. Around the middle of eighth grade, my mom found out that he had cheated, and he left. Finally. Then, there was the custody battle. My mom went to court on Mondays, and brought home food after. Now, he has child support to pay, and he gets every other weekend and every other holiday.

I'm honestly really glad that my brother gets his dad in his life. Even though I never liked him, I hope that he's someone that my brother eventually looks up to.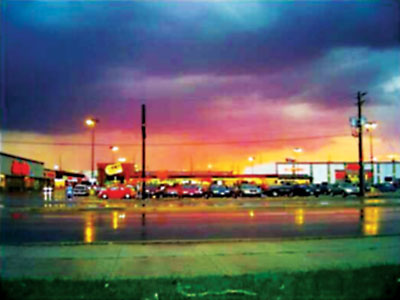 © Jasmine N., Lyons, IL