Writing Pangs
January 2, 2018
Writing is frustrating. The first time in my life that I can remember having this thought was in fifth grade, when we had an author come talk to our class about his work. A bald man with glasses, he went by the name of Mr. Peters and was the author of numerous short stories. I enjoyed his stories, but when we were asked to write stories of our own, I struggled mightily. My ideas tended to stem from books I recently read, which made it very difficult for me to find an interesting idea of my own. Since I had just read Where the Red Fern Grows, all I could think of were stories about dogs. Once I was finally able to come up with an idea, I could only write a few sentences before I got stuck again. This writing experience with Mr. Peters is an event in my life that I still remember vividly to this day. Although this was an irritating incident for me, it taught me how to overcome the frustrations that come with writer's block. It led me to discover strategies to break through writer's block, like taking breaks from writing and brainstorming ideas. Even though I was extremely frustrated during the session with Mr. Peters, I was still able to learn a valuable lesson from the experience.

Throughout my entire life, writing has been an activity that I struggle with and don't find much enjoyment in doing. Despite my struggles in writing, many different English classes and events, like the one with Mr. Peters, have helped me develop my skills and break through barriers in my writing style. For me, writing is becoming an activity that leads to less frustration, but not much enjoyment. I feel like I still need to find my voice when I write, instead of relying on a concrete, five paragraph essay format.

Around the same time that I learned from Mr. Peters, I learned a lot about writing from my mom. A good way to frustrate a young student who is beginning to write is to give him a mother who is an English teacher. Although having an English teacher for a mom does have its benefits (e.g. proof reading papers like this one), it also created a lot of pressure from my point of view. I felt like if I was a bad writer, I would be considered a disappointment in her eyes (luckily, I turned out to be an adequate writer). She gives me advice on my papers, which usually leads to more stress on my shoulders than help. When I finish a paper and want to sleep, the last thing I want to do is fix multiple mistakes that would barely affect the impact of my paper. Moments like this with my mom have caused writing to frustrate me, but I know that her help will ultimately better my writing skills

When I was a student in the Junior High, I was in the average English classes. I had been in advanced lit classes before, but never for an English class. However, I decided to enroll in Honors English 9 my freshman year. I expected the course to be difficult, and it lived up to my expectations. I would pour all of my effort into all of the papers, but only get decent grades in return. I remember how annoyed I was when I put hours of work into a Romeo and Juliet essay, just to get a C+ on itThis frustrated me immensely, but I used my frustration in a productive way and turned my Bs and Cs on the papers into As and Bs. Although I was able to improve my grade, it didn't happen overnight. It took months of motivation and struggling on papers before I was able to keep my grades up consistently. This wasn't a fun moment in my writing career, but it was a necessary one.
Despite my development in the past years, writing is still an activity that I struggle with and don't find much enjoyment in. I feel like I still have to find my true voice when I write. In all honesty, I'm the type of person who is better with numbers than letters. However, there is no doubt in my mind that I would be struggling immensely more if it weren't for these influences in my life. I have gotten much better at writing since ninth grade, but I still have much more room for improvement.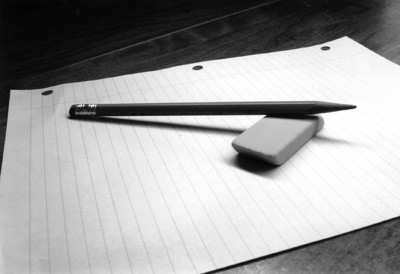 © Michael H., Mildford, CT