Group Projects
January 2, 2018
My grainy, burning eyes look up at the kitchen clock. It's 12:35 a.m. Looking around you'd think my kitchen was a preschool playroom. Scraps of paper, markers and stickers cover the countertop and a hot glue gun is dripping a pile of clear goop on the corner of my pencil case. Standing pathetically across the room is a half-finished cardboard trifold with the title "Discover Mexico!" plastered brightly across the top. My friends have all left and once again it's just me, the mess and an incomplete group project standing solo in my abandoned kitchen. How can this be happening to me again?!

Still to complete for the project:
- Places of interest in Mexico
- Holidays and festivals in Mexico
- Clothes and costumes in Mexico
- Maps of Mexico
- Bake Mexican treats
- Wrap up and transport to school and work out presentation parts

I sit down at my computer and start pounding out the remaining sections of our final history "group project." I feel my frustration build with each key stroke as I ponder the ridiculousness of the notion that this is a team effort. I offered to have the gang at my house, but I didn't offer to stay up until 4:00 a.m. to finish the remaining requirements all due tomorrow. Now I'm smoking right along with the hot glue gun!!

Type, cut, glue, paste. Type, cut, glue paste. Maps of Mexico done… yes it's almost one.
Type, cut, glue paste. Type, cut, glue paste. Holidays left to do…now it's almost two.
Type, cut, glue, paste. Type, cut, glue paste. Everyone's left for home…finishing costumes alone.
Type, cut, glue paste. Type cut, glue paste. Now it's almost four…please group projects no more!

Red eyed and slightly dizzy I walked into my first hour class the next morning. I looked like a circus clown juggling the gigantic poster board, Mexican hats and ponchos for props and homemade empanadas to share with the class. My team met me at the door like eager puppies anxious to present our "group project" to the entire class. It was like a battle between them to see who would set up the trifold and another struggle to see who would stand closest to it as our teacher walked slowly by. "I'm so impressed with your group's hard work, effort and attention to detail!" she commented. "Your group must have worked all night!"

"Oh yes, we did." Our group boasted. "Oh yes we did."
I felt my heart sink a bit and I slowly turned away from the trifold. I picked up the platter of Mexican empanadas I had made the day before and began handing them out to the class. Several of my group members eagerly picked up the napkins I had brought from home and trailed behind me handing them out to our adoring fans. "These are delicious! How did you guys make them?" Everyone was smiling and laughing enjoying the treat. I should have been elated at our successful presentation. I should have been flying high with the excitement of a good grade in the making. I should have been puffed up with pride and gratitude, but instead I felt like a balloon with a slow leak, slowly wilting into the classroom cement floor. No sleep and carrying the weight of the "group" can do that to a person.

The Mexico project served as our final exam for the class, so everyone was thrilled the next day with our 98/100 A grade. I wasn't surprised when no one cared to take the trifold home. It sat lonely and crumpled in the back corner of room 102. After school I gently packed it up and carried it protectively to the classroom door. I's fumy how you can become attached to something you worked so hard on all week long. I felt a bit of possessiveness take over when I glanced at all the group members names signed prominently on the back side. Where were they now? I'll take you home Mexico, I'll take you home.

I bumped into my teacher as I maneuvered my way out through the exit door. "Aren't you the lucky one getting to take the project home, Molly! I bet there was quite the battle over who in your team would get to keep all that awesome work! I'm so proud of your entire group. Be careful with that beautiful project!"

As I tried to muster up a grateful smile, several of the Mexico pictures fell off the board. Mrs. Smith handed each one back to me carefully. I was hoping she would ask me about each photo. I could share all the facts I had researched on line. I thought maybe she would ask me for the recipe for my scrumptious empanadas or inquire where I had found the Mexican hats and ponchos. Maybe she would even ask me how long it took to organize and lay out the trifold board. I still had so much I wanted to share. Instead, Mrs. Smith kept walking to her car and called back, "Please tell the group they did an amazing job! I'm excited to see what you all come up with for our next project! Great teamwork!"

I often flash back to my middle school Mexico project as I spend hours and hours sitting at my kitchen counter working on high school "group projects."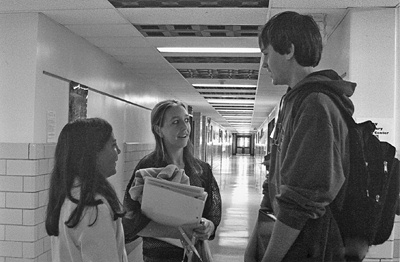 © Kathryn K., Pompton Plains, NJ