One Ticket to Destiny Please
December 19, 2017
There are many things a man is supposed to do on a date. Men are supposed to hold the doors, pull out their date's chair, display proper manners, be intrigued by every stunning feature, and always make their escort feel as comfortable as possible. Most importantly though, a man is expected to pay for the first date. When a man says he doesn't have money, most women immediately forget the manners that were displayed throughout the entire night, and react with repulsiveness at the grotesque idea of giving the slightest attention to a man who hasn't even enough money in his pocket to pay for the tip.

Every morning when I wake up, there is a reminder hanging on my wall of that first date; an old movie ticket with the fading thermal writing displaying Star Wars: Rogue One. Most women are interested in men who chase, but I found myself at a dilemma when I couldn't catch this guys attention. Dylan had everything that a high school girl seeks out in a partner. He was attractive, a 6'1" guy a bit on the heavier side, with chocolate brown eyes and a beard (such is a rarity in high school). He always smiled. It didn't matter what situation he was in, but he always had that class clown attitude that attracted everyone towards him. He was also jobless, penniless, and lacking even a vehicle to travel around. Such were the traits I was raised to be key in finding a man to date.

As a child, my grandmother's soft hands cupped mine while she whispered in my ear, her lavender perfume almost suffocating me, "Remember child, find a man who has money. That way you never have to work a day in your life." I never had interest in dating men, because not a single one of them would be good enough for my family. That changed when I met Dylan Michael.

As the months went by, ideas continued whirring through my mind of how I could attract his attention. An idea occurred to me upon information that his 18th birthday was in a couple weeks. The following week, I gathered items in one larger than life extravagant display of interest, filling a black bag for his 18th birthday with Skittles, a Star Wars shirt of Boba Fett, and a card with a handwritten note inside, also containing seventy-five dollars (which I had labeled as money for the computer he had so desperately been wanting for so long, and expressed a few times in class he was only sixty dollars short). I gave him the bag a few days earlier than his birthday due to the quickly approaching Christmas break. While there was a tension between whether we should extend into committing ourselves to a relationship, or remaining "friends", the moment that he opened the black velvet card released the tension and formed a definite answer for both of us.

A couple days later, he had arranged a ride for himself so we could meet at Walmart, deciding to celebrate his birthday with solely me. It wasn't until, after walking nearly a mile in the blistering cold, that the awkwardness began to fade away into an odd sense of comfort. We sat down at the local Applebee's, neither of us sure of what to order. "I'll have an arnold palmer. Also, I'm ready to order. May I have the Bourbon Street Chicken?" In a state of cliche panic, I quickly added that I would drink a regular sweet tea, with an abrupt "I'll have what he's having." While he quickly chomped down his food, I found it difficult to enjoy a meal that I had not chosen myself. It wasn't until that savory first bite into the steaming shrimp that I forgot all about this, and ravenously tore into the meal before me.

At the end of the meal I pulled thirty-five dollars, including tip, out of my jean pocket and set it onto the table, bringing a flash of guilt to his eyes. I realized something was off; he wasn't smiling. There was a twinge of guilt in his expression at having the capability to pay for the date, yet holding tightly onto the money I had given him (in which I insisted he keep). While we were slipping out of the high top booth, he took the time to assure I got down safely, holding his hand out for me to grip onto. That night, we walked around from store to store in the blistering winds, before we finally arrived at our last chosen feat for the day: seeing a movie. Another uncomfortable, convoluted expression flashed across his face as I wandered up to the ticket booth by myself, purchasing two movie tickets for Star Wars. The theater was packed, which made it easier for us to slip into the comfort of not having to focus on his guilt, directing our attention to the movie up on the display. It was through the duration of that movie that I felt the discomfort and ideas of a money dominated world slipping away into the warmth of sitting closely beside him, simply enjoying a sci-fi flick. As we left, I was hoping this would not be the last time I would see him. This is the man I could see spending my life with; perhaps getting an apartment with just to start out. It turns out, my fantasy world would come sooner than I was prepared for.

The news was sudden after his birthday, but he waited until after Christmas to save me the trouble over the holidays. His trembling hands held onto mine, with his callused fingertips brushed against the back of my hand. He hadn't told anyone, but he had been preparing to be homeless. There was a faint quiver in his voice, almost out of fear that I would immediately tear my hands free of his and walk away from the complications he represented. His family informed him on Christmas that after he graduated, his family would be moving to Florida for his mom to fulfill her lifelong dream of being close to the beach. They gave him dates and told him what he should pack up. Most importantly, they told him he wasn't allowed to come with. Why? To this day, we still aren't sure. Maybe it was his mother's unwillingness to spend any more money on him now that he was 18, or his step father's abusive nature that manipulated his mother into thinking he was more of a burden than her son.

Desperately, I tried to grasp the concept of his family completely abandoning him right after high school. There would be no assistance for him with college, he lacked a job to work to save up money for an apartment, and more importantly, there was the difficulties of having to explain to his girlfriend why he couldn't provide for her. When he broke the news, I waited a day before speaking to him again. The hours felt like weeks, and the night was an entire winter. Sitting at the cafeteria table, and having always been the first two students to arrive at school (mainly to have more time to talk and spend), I pulled out my half-charged Chromebook and began to flip through the various job openings and apartment offers I had saved. His bottom lip started to quiver, and as much as he wants to believe I didn't see him crying in the dimly lit cafeteria, the soft turbulence in each breath he took in alerted me to the joy in him having someone there to comfort him.

It took a while to settle into our new home, and many of the other high schoolers still find it unbelievable that my boyfriend and I are managing our apartment on our own, paying for our electricity, food, rent, and health insurance without any government assistance. At times, I can hardly believe it has been possible for us to come this far. When we first moved into the apartment, the only furniture being a broken-geared sofa with legs that never stay locked in place, and his clothes, each one hurriedly crammed into a cheap Dollar-Tree basket.

Now, there's a rewarding sense of comfort each night that we lie down in our king-sized bed, both of us tucked down into the thick red silk comforter for warmth, enjoying the last moments of the night together. We tell each other goodnight, with his closed eyes and gentle smile being the last thing I see before I roll over, and drift off to sleep staring at the Star Wars: Rogue One ticket framed on our apartment wall.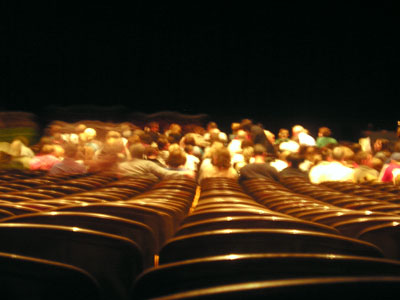 © Jessica P., Bethel Park, PA