Wordless
November 30, 2017
My family called me a bookworm.

As a seven-year-old, I didn't appreciate the term. Who wants to be a worm living in a book? I'd imagine the wriggling, gooey…thing happily munching on the pages of all my favorite stories and wonder how I related to the book-digesting creepy-crawler. When my birthday party decorations consisted of smiling slugs, I was anything but impressed.

So, yes, I didn't understand this affectionate nickname, but now as I recall this traumatizing ignorance, I can see myself in my sisters' eyes: a short, chubby girl with bobbed hair and speckled face, placing Beezus and Ramona in front of her plate every meal, and tripping over the cat while engrossed in Laura Ingalls's life. I don't remember learning the alphabet, but I can see a time before. My mother sits holding Bears in the Night, and I frown as she tells me I will have to learn to read this by myself. "I know how," I declare, eyes squinted with indignation. I pluck the book from my mother's fingers, and, staring up at her over the cover, I announce, "'In bed.'" My mother's lips twitch. "'Whoooo…'" I add, trying to put scary twist that always accompanies my mother's reading. She explains, much to my disappointment. Reciting, it seems, is not the same as reading.
After this inauspicious beginning, I did learn to "properly" read, and I remember many happy days spent seated on the carpet, a pile of Dr. Seuss on my left, and that bothersome subtraction forgotten on the right, lost in the magical world of cats in hats, multi-colored fish, and bears riding around on strange-looking bicycles. I touched the pictures, admired the script, and read. Dr. Seuss hovered over my childhood, leading me through rhymes and riddles, preparing my eyes for Jane Eyre. My family has hundreds of books, and I trundled as fast as my short legs could move after the ever-brightening image of the top shelves. I had a dream, a wish, to become the most talented reader on Planet Earth.

Scratch that.

On every universe ever explored by the Starship Enterprise. I believed, as a large-eyed child, all the knowledge in the world could be found in those pages stacked ceiling-high in the library.

**************************

My sisters were part of a novel-writing curriculum called One Year Adventure Novel, and I can see myself staring at their laptop screens in awe, thrilled that they were adding their knowledge to the myriads of stories around the world. They hurried me from their creations, refusing my desperate pleas for a new story, but I crept into their rooms, and managed to lay my hands on a book by one of their friends. I absorbed the tale of a Fable-Weaver, who went around with a thesaurus and three changelings, and when I set it down, tears tracing down my cheeks, I resolved to join the number of talented writers on the world. If my sisters and their friends could write such a powerful story, I knew I could. I had to. I set my fingers to the keyboard, and typed a quick sentence: "Lynn held Ashlay's diary in her lap, turning each page as if had been sent from heaven…"I wrote with an eagerness of a newly-hatched writer, convinced of my own talent. The story evolved into what I loved to read, full of fairies, elves, and magic. And then I hit a brick wall. I stumbled back from it, my face stinging from the impact, shocked into silence. I was wordless. How could I become the next C.S. Lewis if I couldn't make it past the first three pages? I threw the story out, abandoning poor Ashlay, Corin, and Lynn to their storyless fate and began anew, weaving the tale of Kyvi, a fairy with one broken wing. That one also ended in the merciless file dubbed "Story Fails."

I grew desperate. I had to write a best-selling novel, or at least manage to finish a novel. I had gleaned so much out of others' effort and time; I felt I had to give back. Stories had changed my life, and I wanted to change others.

That was my problem.

That is my problem.

I wrote to change the world, to make an impact. I bombarded my characters with morals, imperfectness, and redemption, because that's what makes a good story, isn't it? Tell a tale of woe, and conclude when the character finds the light. Lynn wanted adventure, so she abandoned her life to follow something that disintegrated before her eyes. Kyvi was an outcast, convinced of her own uselessness, only to uncover the beauty of her existence. I outlined my stories with intense effort, describing the steps in each of their lives, how this scene would cause this realization, which would lead to this friendship, which would lead to the happy ending. The villains would be punished, but of course, the protagonist would recognize her own weaknesses in this other character and so would have pity.

My life's calling was clear. Readers would lay down my novel stamped "Most Effective" with the knowledge that they could also better their lives. I would be a kind, gentle missionary with the right words, the right ideas, the right story. I filled pages of my notebook with character outlines. I knew the story from start to finish.
But I didn't have the words.

They eluded me, even as I frantically studied my favorite stories, trying to find the secret to success. I reread Fable Weaver, wondering why this simple tale still created tears. The beauty of Narnia filled my soul, but I didn't know why Aslan made me wish I had a wardrobe of my own. I loved my books. I read and reread, filling my heart and head with these stories, trying to find the secret. I ached to tell my own story.

I didn't have the words.

*****************

I gave up.

Lynn and Kyvi fell asleep in my heart, and I covered my own desire with other author's works. I roamed the library, and went back over the dear, well-known covers of my childhood friends, Margaret Peterson Haddix, James Herriot, Beverly Cleary, and so many others. I made new acquaintances, like Percy Jackson and Annabeth Chase, while marveling over the brilliantly written character of Luke Castellan.

And I found Kyvi again, hidden deep within the covers of the One Year Adventure Novel that nurtured Fable Weaver. My mother suggested I tried this writer's curriculum, whose worth was proved by my sisters' successes. I didn't want to try again. I hurt every time I thought of the unspoken story of Lynn, whom my inexperience ruined. But it was high-school, and I needed the credits, so I sighed and turned it on, listening as the host, Mr. S, joked around on the TV screen, and encouraged us to write our own story. I filled out a few worksheets and found inspiration. I discovered the character of Jaqueline DuPre, and realized the shy child next to her was none other than Kyvi, my little misfit. I was eager now, my math once again forgotten on my right. I flipped through the worksheets, the suggestions, the notebook pages. I propped open my textbook and began, fighting to reach the "denouncement" in a year. I finished my little story and looked over it, disappointment gradually seeping in to choke me again.

I had loved my little Jaqi. My little fairy-turned-elf-peasant and her adorable baby brother. I read through my novel, wincing as my own words bruised the beauty of my aspirations. I wiped my eyes, laughing a little through the pain, and threw it in the trash. I give up.

I'm the bookworm, hiding in the pages with all my old friends, unwilling to poke my head out, to put myself on the spot with my stories clutched in my fingers. I'm the child with ideas with no foundation, still hugging close to my mother, ignorant and useless, like a fairy with a broken wing. I am wordless. But, as disappointing as this first attempt was, I can't quit now. I dream up more story ideas every day, sitting in a tree, watching my fancies dance with the falling leaves. I scratch my words on paper, waiting for the inspiration of one to take hold. I sit at the computer, staring blankly at the screen-saver bubbles floating around like my dreams, twirling in empty space. I miss writing. So I start again. Crammed indelicately into my minutes of spare time, my thoughts unraveled on the screen, laying down neat and chaotic, resolved and just beginning. Maybe I don't have to change the world. That dream is still there, hampered by inexperience and tumbling castles, but for now, I just need to change me.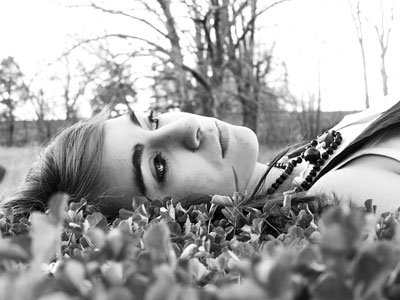 © Jasmine R., Bourbon, MI