The Easter Incident
November 27, 2017
On Easter day in 2007, I had had an Easter egg hunt at my school. It was a half day, so we got the rest of the day off once all the eggs were found. My dad took me home, since my mom worked that day.

We got home and my dad told me, "Ok E, time for a nap."
"Why?" I asked. At that age, I did not like naptime.
"Well you just spent hours running around with all of your little friends, and I was running around watching you," he replied with a yawn.
Though I would never admit it outloud, I was sort of sleepy. I nodded and headed off to my room.
"Wait just a minute," I could hear the amusement in his voice, "hand me your candy basket please."

Reluctantly I turned around. I was hoping that he wouldn't notice. I handed him my pink wicker basket, and saw him put it up on the counter and push it back so it was touching the wall. I couldn't reach all the way back there. I knew this trick, this was one way of telling me that I needed to ask before I got a piece.

Sure enough, "If you want a piece, ask me or Mom ok?"
"Can I have one now please?" I asked.
"No," he laughed. "No more today. You just had a ton of candy at school."
Aww man, I thought dejectedly.

I didn't like having to ask. Even back then, when I was only four and a half years old, I knew that when I asked, I would usually only get one piece of candy. I always wanted more than one (Candy is kind of addicting).

Trudging to my room, and heard my dad do the same. I crawled into my bed, the cold sheets relaxing me. I laid my head down on my soft pillow, and before I knew it I was out like a light.

When I woke up, I realized that the house was unusually quiet. No T.V. with sports or Friends playing. No typing coming from my dad's office. Rubbing the sleep from my eyes, I walked down the hallway to my parents bedroom. When I peeked inside, there was a lump of blankets I took to be my dad, rising and falling steadily.
Slowly, I crept backwards and thought to myself, Mom's not home, Dad's asleep, and I'm already bored. I groaned.

I spent what felt like the next hour roaming the apartment trying to entertain myself. Then, a brilliant idea struck me:
The candy.
I started second guessing myself, but then shoved the thought aside.
Dad won't notice the difference if a few pieces went missing, right?

There was still the problem of my tiny body not being able to reach the basket. Mom didn't like it when I stood on the dining room chairs, and it's not like I could climb onto the counter or anything.

Or could I? NO! Dad would somehow find out and I might not get any candy!

My mind went on like this for a while until I remembered my stool in the bathroom. I raced to my bathroom and got my black stepping-stool. I brought it back out to the kitchen, set it in front of the counter, and stepped up. I reached as far as my little arm could let me. Not quite there. Standing on my tippy toes, I stretched and stretched. When suddenly, I felt my fingers brush the edge of my basket. I managed to pull it closer until I could grab it. I carried it to my room, tiptoeing past my parents room, and set it on my bed. As to not look suspicious, I brought my stool back to my bathroom.

Full of the excitement from my success, I poured the candy out onto my bed.

Which to eat first? I wondered.

I picked up a small purple egg and dumped out it's contents. About ten colorful Jellybeans rolled to a stop on my blanket. I quickly devoured all of them. The pile of eggs got smaller and smaller. I didn't notice the diminishing pile until all of the eggs were gone.

Oops, I thought worriedly.

My dad eventually woke up and found my sitting in my room covered in chocolate and surrounded by empty eggs. Once I cleaned up, both my room and my face, I got scolded for not using my brain. I could've gotten hurt or worse! I ate way too much sugar! The list went on.

When Mom got home for dinner that night, Dad told her all about my little candy excursion while he was asleep. Looking back on it I could tell that she was trying not to laugh.

I learned a valuable lesson that day, listen to your parents. Even though sometimes it might not seem like it, they know what's best for you. This story has become a treasured memory to my family and when we think back on it, we always have a good laugh.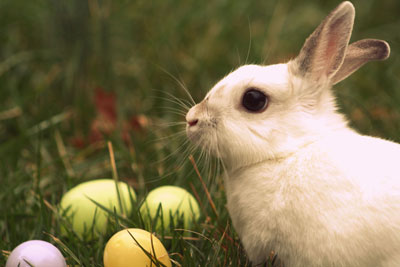 © Bianca A., Damascus, MD