Little Latina, Go Home
November 27, 2017
Soil and blood smeared my knee caps. A few minutes beforehand, I skinned them both by tripping over my own feet. My cousin Lily and I had been sprinting down a steep mountainside while in a rush to get back to her house. After having spent all afternoon playing on the grass covered mountain, which we liked to call "La Mesa," the sun was now setting along the horizon.

A full year passed since the last time I'd seen Lily. It was summertime, and my parents had sent me to Mexico to stay with relatives. Maybe my parents did so because they wanted me to grow closer to my extended family. Maybe they were sick of my seven-year-old ADHD and wanted the summer away from me. Either way, being in Mexico felt bittersweet.

Tears immediately began streaming down my cheeks when my knees broke the fall. In that I had been running downhill, I then tumbled forward onto my chest. I recall trying my hardest to suppress a pained shriek; I didn't want Lily to call me a llorón. I stood myself up, and Lily agreed when I said we still had plenty of time to walk back home. Although we were only five minutes away from where Lily lived, "La Mesa" was located just outside of her hometown. We still had to cross the small piece of cacti and shrub covered desert before arriving there.
Thin, dry trees stood alongside the path we took. My cousin and I walked in silence, but we didn't get very far before unsettling noises caught our attention. First, we heard mumbling coming from behind a cluster of trees to our right. It sounded like someone cursing under their breath, and they stuttered. In fear, Lily and I stopped walking when we heard the mumbling steadily amplify. We gave each other a look of confusion before continuing onward.

A man with a raggedy beard, dressed all in black suddenly stepped out of the cluster of trees and stood directly in front of us. He had a liquor bottle in one hand, and he didn't seem to notice us right away. However, his head quickly snapped in our direction once Lily and I let out a simultaneous scream.

My hand automatically grasped Lily's wrist and I darted leftward. My cousin and I were on the exact same page, and we ran together. We were so scared, we didn't even notice we were running in the wrong direction. We ran so far out left in fact, that by the time we finally entered the small town, we were on the opposite side from where Lily lived. At that point, the moon was out and the sky was dark. An aunt of ours lived around that side of town, so we walked there to find safety. There, Auntie Raquel called up Lily's mama to let her know we were okay. I was exhausted, and I stayed awake only long enough for my aunt clean my wounds before I passed out on her living room couch.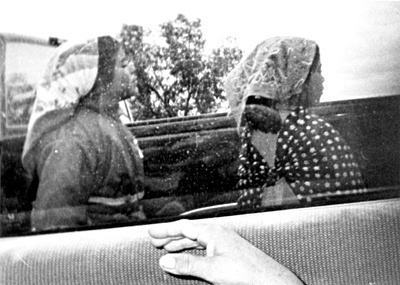 © Amanda M., Lewisville, TX