Golden State
November 3, 2017
It was cold, which was odd because it was nowhere near winter. Everything about that day was odd, actually. The night before, I was sleeping on my parents floor in Arizona, crying over all the things I would miss. My dogs, my mom, and everything else about the Grand Canyon State. I woke up that day before the birds could sing and before the sun had poured itself over the valley. I went outside. It was warm. After what seemed like hours of lamenting my departure, it was time to leave my whole life behind.
That day. I can't stop thinking about it. The whole journey to the Golden State felt like an eternity. It wasn't exciting for me, but everyone else thought it was. I didn't talk to my mom that day, or the night before. My dad feared that she would make me feel guilty and change my mind. He didn't know I already changed my mind long before he mentioned the idea of moving. I did my best to cover up my sadness in a thin blanket of serenity. It worked. The ride was peaceful.
My new house was big. I would say home, but it didn't feel like home. In school, I felt lonely. I would always sit alone before first period, thinking about how much I wished it was a dream. It took a long time for anyone to approach me, and even though they invited me to be their friend, I still felt like an outcast. All I could feel was that they pitied me, but they soon became real friend to me. As the school year progressed I grew more and more happier to be in California. My eighth grade year was a blur, with a couple of significant events. My ninth grade year wasn't too memorable.
Now I am a sophomore. I must say that this year might be one that is the most memorable. I'm in a club. I have a best friend. I'm in driver's education, and I'll be able to get my permit in early March not I am open to so many new opportunities that I'd never be able to find in Arizona. I used to be sad a lot, but now I realize how free I can be here. This state really is golden.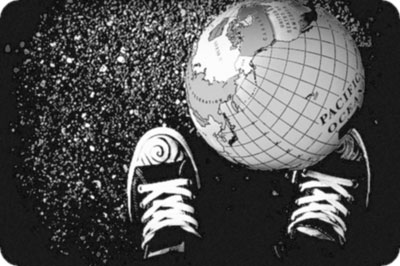 © Kailey E., Crownsville, MD