Movie Night
November 14, 2017
It is extremely rare that my friends and I can make plans that include more than just two of us. This was the case for a day when myself and four others would go to the apartment of one of them and we would watch movies all day. The gathering took place at my friend Kinzer's apartment, and also included Devin, Jarred, and Nkiyasi.

Jarred would bring pizza, Nkiyasi would bring candy and snacks, Devin would bring brownies, and I brought money, just in case we needed to buy anything, while Kinzer would provide the movies and the place for us to do it all.

I got to Kinzer's place first and while we waited for the others, I talked with his mom about driver's ed, which I had gotten out of a few minutes before I got to the apartment. Devin showed up next, which meant that Kinzer had to introduce him to his mom. After the introductions, we tried to log into the Amazon account of another friend so that we could be able to watch John Wick 2. We tried for about fifteen minutes without luck, and Jarred and Nkiyasi both showed up during the time that we were attempting to log into Amazon.

The five of us decided to go to a video store right by where Kinzer lives to see if they had John Wick 2. We exited the building and walked to Disc Traders. We were on the sidewalk, just across from the apartment when Kinzer stopped and said "Ooh, a bone!" For some unholy reason, he decided to pick up the bone off of the side of the road. We continued, laughing and talking about the bone, until we got to the busy street that we had to cross. We waited several minutes until there was a large enough gap for us to get across. We probably looked ridiculous, five teenagers running across a busy road as fast as we could. Surprisingly, we had all made it over without anyone getting hit.

We made our way across the large parking lot to the store and we all looked to see if we could find the movie- well, all of us except Kinzer, who sat himself down at the guitars. When we figured they didn't have it, we made sure we didn't lose anybody and made our way back to Kinzer's apartment.

When we were back, we decided that the first movie that we would watch was Jumanji. We watched the movie, making jokes the entire time about how the cop didn't deserve any of what was happening. As we couldn't watch John Wick until Kinzer's parents went out and rented the second one, we needed to find another movie to watch. As I was the one who picked John Wick, I got to pick what we watched while we waited. I decided to introduce my friends to the cinematic masterpiece known as the Disney channel original movie Lemonade Mouth. Throughout the whole movie, we were talking about which characters each other most related too.

Mrs. Kofoed, Kinzer's mom, watched the first John Wick movie with us. Throughout this movie, we were as quiet as we could be, taking in all of the intensity of the action movie. After it was over, Kinzer's parents left to rent the movie for us and bring his little sister over to a friends house. While we waited, we decided to watch some surreal horror YouTube videos. When we got bored of that, we decided to mess around. Devin jokingly dropped his expensive wallet, which prompted Kinzer to grab it and try and run out and jump off the balcony with it, which was only about a three foot drop. He ran into the door and screamed "It's locked!" He fell over the couch and onto the floor, attempting to keep holding onto it. Devin, however, grabbed it quickly. Jarred, Nkiyasi and I were all watching this scene and laughing. We soon decided to watch a music video followed by some more surrealist horror videos.

By the time Kinzer's parents got back, it was nearly time for most of us to leave. While we waited for our parents to come pick us up, we ate the rest of the candy that Nkiyasi brought and said our goodbyes for the evening. Needless to say, this was only one of the more interesting times I've hung out with my friends.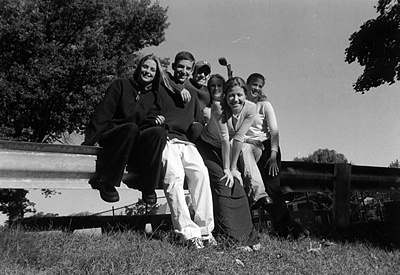 © Caroline C., Marblehead, MA