The Music in Me
November 11, 2017
Having grown up in a rural Virginia county, country music is almost impossible to escape. My earliest memories involve hopping around the living room to artists like Alan Jackson, Tim McGraw, Faith Hill, and Carrie Underwood. A staple in our household was Garth Brooks, and disliking him was punishable by death according to our mother, who loved him and his physique so much he was nicknamed "Buttman" in our family. Anytime we were in the car our mother would blast one of his cds (she had all of them) and we would proudly sing along. We knew all the words to "Wrapped Up in You", "Friends in Low Places", and a personal favorite, "The Thunder Rolls". At times, I feel as though I am more familiar with Brooks' voice than my own parent's, a trait I'm certain my mother would be proud of. My father also instilled upon me a strange appreciation for Bluegrass, as well as the desire to learn how to fiddle, and a love for classic country such as Patsy Cline and Johnny Cash. Despite such clear roots in music with a southern twang, I absolutely abhor the country music of today, and often times refuse to call it country music at all. It's borderline pop/rap and has lost the sort of endearing and familiar warmth of the songs I grew up with. But when your parent's music tastes are so eclectic, you have a lot of other genres to fill in the gap that the loss of good country music can instill into your life.

My father also listened to lots of classic rock, which led to a number of mini concerts in our living room, the fire mantle as the stage for my siblings and me, hair brushes and remotes our microphones. We could easily switch from air guitars and thrashing heads to random interpretive wiggling as my mother's 80's tunes would begin to play. My siblings and I still listen to some of that music to this day, and if our parents hear it they yell at us for, "stealing their music". Seriously though, how could you not like timeless classics such as, "Believe" by Cher, "Back In Black" by ACDC, "Carry on Wayward Son" by Kansas, and of course Queen's "Bohemian Rhapsody"?
My grandparents on my mother's side have a radio in their house that I have heard nothing other than classical emit from the old reddish brown speakers and swirl through the small house from dawn to dusk. Often, when we went to go visit them, I would sit in front of the radio and just listen, disregarding whatever conversation was going on in the background. The announcers for the station they always listened to had such smooth and warm voices that would calm me and teach me about the strange music I was hearing. When I entered elementary school, my music teacher seemed to notice that I had more appreciation for classical music than the other kids and encouraged me in any musical endeavors. Sadly, my family could not afford piano, violin, or cello lessons but I found other ways to produce music like boomwhackers, recorder, and harmonica . In fifth grade, my music teacher told me to join this ensemble she ran after school, and I don't think I have ever said yes to anything so quickly in my life. It wasn't exactly what I had wanted to do music wise, but I loved it anyways because it was still music. I only got to play in a Tone Chimes Ensemble for a year but it was the final push I needed to convince me that I wanted to play any instrument, no matter what. Elementary school was also the time I was introduced to classic musicals such as, "Mama Mia", "The Phantom of the Opera", and "Grease", which made me wish I could sing and act, but I soon realised with my voice that it would be better if I just stuck to instruments.

Middle school brought around my first year of band, and my first year of playing the flute. I had never been more frustrated and upset in my life. It sounds odd to say, but I had been desperately hoping I was some prodigy at music, and that everything music wise would just come to me, but I was so, so wrong. Not only was I struggling as a musician, but I was struggling as a human too. I was severely depressed and my anxiety was through the roof, to the point where I could barely play in front of others. I earned the nickname Spazzy for a while due to my anxious tendencies. Later on, in the worst three years of my life, playing the flute became a little easier but life only got worse. To cope, I began to listen to more, expressive music, shall we say. Artists like Three Days Grace, Breaking Benjamin, and Shinedown were what began to appeal to me more than the classic country and 80s hits that had riddled my childhood. Despite the growth in the amount of darker music I listened to, I still listened to classical as well as some softer artists such as Pentatonix (my whole family fell in love with them after watching them on The Sing Off), Celine Dion, Mumford and Sons and Eric Whitacre. During middle school I realised the importance of music to me, how much I relied on it to feel somewhat okay. Between recovering from a horrible therapist experience, dealing with puberty, and the realization that middle schoolers are the worst, music was the only constant where I could find stability and comfort.

High school started out okay, though anything compared to the torture of middle school would be okay, and brought about the emergence of more musicals. At the beginning of the four years was Wicked, prompted by my having read the book and the rest of its series, and at the end was the largely popular, hip-hop infused historic story of Hamilton. Around this time I also discovered twenty one pilots (their name is written without capitals) , Panic! At the Disco and Dodie Clark, all of which I developed an intense love for. During the middle of my sophomore year, life began to get more turbulent once more and things like crying myself to sleep at night and much more severe anxiety attacks became all too regular. It was during this time that I realised Cello Concertos existed. Ever since I began listening to classical music, I adored the soothing pull of the cello, and desperately wanted to learn to elicit such sounds from an instrument. Sadly, my high schools funding is sorely lacking and orchestra did not exist in our county, so I could only dream. But the music streaming app, Spotify, introduced to me the world of Cello Concertos and I couldn't be more happier. Some favorites I've found are Cello Sonata in G Minor, Op. 65: III. Largo by Frederic Chopin, Cello Concerto: II. Adagio by Ernest John Moeran, and of course I fell in love with Johann Sebastian Bach's Cello Suite No. 1 in G Major, BWV 1007: I. Prelude. It was also during my four years of high school that I began to doubt my abilities as a musician and struggle with the flute. Throughout my experience of seven years, never once had I had a tutor, not being able to afford one, and I could not seem to teach myself the skills and techniques that would further my musicianship. Despite this inadequate feeling, I still joined the symphony here because the flute has been a part of me for seven years, and stopping cold turkey just was not an option.

Despite a rather hard to explain music taste and a rough history with playing the flute, music will forever be a large part of my life and who I am. My family is made up of amazing musicians and those who are more inclined to simply appreciate music, and growing up in such an environment is enough of an influence to make someone feel as though a world without music would be a nightmare. Music for me is not just background music, but a way to cope with an ever growing list of mental issues and life in general.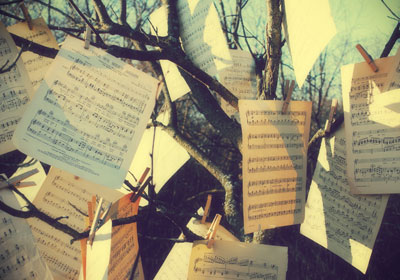 © Olivia E., Alto, MI