The Sunshine State
November 2, 2017
On a windy and sunny morning, I hugged my mother goodbye as I boarded my first plane by myself. My anxiety was kicking in as the plane was taking off, but for some reason, once the plane was above the clouds I felt as calm and free as a bird. Ascending into the sky was just the beginning of the weekend. I was on my way to Tampa, Florida, and could not wait to get into the warmth that is promised by the Sunshine State. While landing in the beautiful city, I saw palm trees, the blue and sparkling ocean, and many buildings with even more people walking around. As soon as I got off of the plane I could smell the fresh air and feel the sun beating down on my pale skin. It was a great feeling to be in such a relaxing place by myself. I was ecstatic to show my parents from across the country that I could be an independent person. My mother´s friend, Ingrid, picked me up from the airport and we went to her very large and intricate-looking home. It smelled like floral potpourri in every inch of the house, and the high ceilings created an echo from the TV in the living room. All I felt so far on this trip was calmness, and all I saw was the beauty of Florida.

The reason for me being there was to find peace within myself. The past year had been significantly difficult, and there was an abundance of confusion in my mind. I got myself stuck in the wrong area, and Ingrid was interested in teaching me things that would unfreeze me and help me find happiness. I was so hopeful for this weekend to free my mind of stress, and it was so exciting that even being in the presence of the help made me feel great. Almost immediately Ingrid led me to her office where she began asking me questions and getting me to talk. Her office was large and bright, and the ceiling fan made it the perfect temperature with the windows opened for the fresh, warm air. I sat in a large brown chair with a yellow blanket surrounding me. I told her everything that was bothering me, and at first, it felt like I was in a therapist's office. Then, she began to tell me about Scientology. She showed me many books and diagrams and quotes and gave me tools to use in my life and become a stronger and happier person. I participated in 5-hour sessions daily with Ingrid for the 3 days I was there. After the first session, I already had let so much go and felt 10 times lighter.

Ingrid's husband, Rob, was a hilarious and kind man. I have known the two of them my whole life, so it was great being in their home and experiencing their hospitality. Sunday morning, the shining sun woke me from out the window, and I walked on the balcony of my spacious room. I took a deep breath, taking in the fresh air coming from the large and green trees surrounding their house. I heard birds chirping and the ocean waves in the distance, then there was a faint knock on my door. It was Rob, asking if I wanted to go with him to the beach. After I ate breakfast, we drove to a tennis court across from a very beautiful section of Clearwater Beach. He played tennis with his friends while I walked alone around the town. With my newfound inner peace and love for my life and surroundings, I had such an amazing experience. Being alone was never so interesting and fun. I walked around and swam in the beautiful warm ocean, and saw glistening fish swimming by my feet. The sand was soft and warm, it looked like snow, yet felt the opposite. I walked to get ice cream, and it was the perfect combination in my mouth with the salty taste of the water, and the fresh breeze trickling in from my smile. I sat on an empty spot on the large beach and looked around at all the loveliness surrounding me. Every person was smiling and laughing, every bird was chirping and flying, and every child was making sandcastles along the shore. It was my favorite moment of the weekend.

Ingrid and I finished working on Sunday night, as my flight was scheduled for 7:00 am the next morning. I learned that as long as I am happy, material things are not an objective. With a newfound respect for myself, I was ready to go home and fix all the things I had ruined in the past year. I wrote letters to my family and close friends and made a plan for being a healthy and productive person. It was exciting to figure myself out in this way and to be in this state of peace and happiness with my life. The next morning, I woke up at the early and brisk hour of 5:00 am when the birds hadn't started chirping yet and my eyes have barely opened. Ingrid took me to the airport and I boarded a plane for the second time this weekend. This time, though, I felt that I had more of a purpose and was more prepared for my destination. Everything I had worked on over the weekend gave me so much perspective on where I am and who I am, and I knew that it was a good and safe thing to have this awareness. When I got off the plane, my mom was right there waiting for me. I could not believe how much I missed her. It was very eye-opening to learn so much about myself and at the same time realize that I do need her in my life. I hugged her harder and with more acceptance than when I left, and I could tell that she knew everything was okay. I felt different, and more sure of everything I was doing because of this trip. Being home had never felt so comforting.

In conclusion, this amazing trip to the Sunshine State gave me purpose and direction for myself. I was in a state of confusion and in a daze for a long time, and this experience was not only bright and warm, it was also comforting and successful. On the plane ride home, I rose above the clouds, and the sun was just rising. It was a beautiful sight, it was almost heavenly. I knew that I was doing the right thing, and if I didn't have anyone by my side, I had myself and my family and I was strong enough to know and accept that.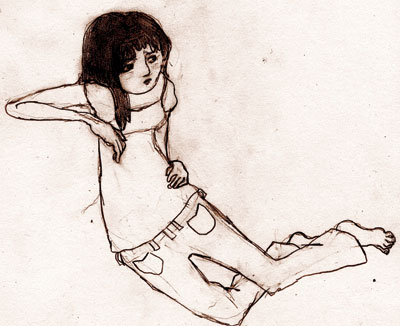 © Samantha W., Albany, NY