Summer Thunder
MAG
October 30, 2017
A storm is coming. A summer thunderstorm, to be precise. Soon it will hit with a violent passion, drenching everything in its path. Then, after only a few minutes, it will fade as if it had never happened at all. For now, however, the world is waiting.
I am already outside when I take off my headphones and stop to listen to the world around me. The wind runs straight through me, then circles back, and hits me again; it yowls all the way. It is a cat, cautious of getting too close yet insatiably curious. I laugh, and run to the park – to that little trail around the drainage valley.

The path is only about 500 feet long, but it packs in more variety than most mile-long forest trails. I look over the expanse of marsh that covers the valley below me. Familiar sights catch my eye : the willow tree, the sunken bridge, cattails, their feathery heads roasting over an imaginary fire.
I take a few steps and my bare foot comes down on a sharp pebble. They litter the yellow sand of this first stretch of path. As I turn a corner, the path widens and changes to grass. I follow it as it drops down a small hill. My feet slap as I run, their sound filling me with primal power. To my left, marsh grasses grow wild and thorny, doubling over themselves in strange shapes. To my right, a row of pines is all that separates me from an unknown neighbor's backyard. It is enough. I feel like the only person in the world.

The sky is shadowed in the false twilight of heavy clouds. Gray clouds rush around at a frenetic pace, hurrying to finish the necessary preparations before they drop their burdens. Suddenly, the sky lights up. Lightning! It is followed several seconds later by the deep rumble of far-off thunder. I imagine the nymphs of Greek mythology, running desperately from arrogant gods. Good luck, lightning.

I am nearing the end of the path now, at the fallen tree. The tree has sat here for several years. Its ghostly gray bark, upturned roots, and leafless branches are a reminder of a summer storm long ago. Here the path curves up, and I am once again atop the small hill.

I feel a drop on the back of my hand. The storm is closing in. I stop and wait, staring expectantly at the clouds. For several minutes, the sky is still. Then the clouds drop their load with a fury. I duck beneath a tree, gather my courage, and start to run home. As I run, the storm picks up, the wind blowing water even where leaves shelter the sidewalk. Nothing is safe.
My house is only a block away from the park. Yet when I step through the door, I am dripping. I pull off my soaked clothes and run upstairs; I am not yet done with water. I take a bath and laugh as I listen to the storm outside, dreaming of more summer storms to come.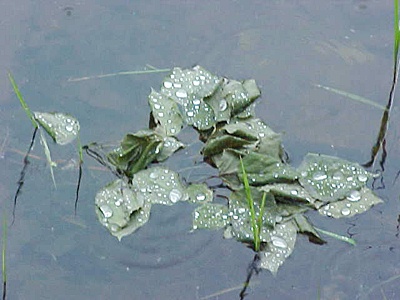 © Elaina B., Waterloo, NY