Moving
October 26, 2017
I'm moving today. Today I'm moving. No matter how I phrase it it's still going to happen. My dilemma is I'm not sure I'm happy about it. I've been saying I need a change, that things have gotten bland, but I didn't really mean this.

I wanted an easy change. Something simple, like dying my hair a new color, or piercing my ear for the umpteenth time. Well, I got something much bigger than those two options. I got a new address, but I'm still not sure if I'm happy about it.

My parents are jubilant with the fact that we're out of that old money pit, so shouldn't I be too? My sister is excited she gets to redo a whole new room, so shouldn't I be too? Even my dogs seem happy with the new lack-of-a-yard they can run in circles in. So why aren't I thrilled? Isn't this what I asked for? It's not like I'm moving to another state or country far away; I'm going to the next town over. I'm not transferring schools, or leaving all my friends, yet I'm still confused regarding my feelings on the situation.

Maybe I need a fresh outlook to go along with the fresh paint. Maybe this is a really good thing. Maybe I'll unpack and the light switch in my brain will turn on and I'll love the new home. I'm not going to say it's mine yet yet, because I don't feel like it is. I'll love that we're not in that old money pit anymore, and I'll love my new room. Maybe I'll even love the lack-of-a-yard.

Or...maybe I won't. Perhaps it'll be the stress, or the location, or just the fact that it isn't my home. It isn't my home. Yet. It doesn't have my scratches on the wall or my stains on the carpet, or my dogs' shedded hair all over the furniture. It doesn't yet. The fact of the matter is that I'm moving today, and that is that. I wished for a change and I got one.

However, I could dye my hair or pierce my ears whenever I feel like it. There's not always a time when I can completely start over. Maybe then it's not that I don't like the house; it's simply that a change this big takes time.
Update: I slept in my new bedroom, and woke up to poop on the floor. Yup, it's home now.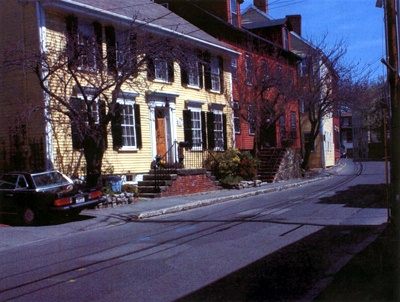 © Josh W., Marblehead, MA