Birthday
October 24, 2017
I woke up realizing it was my birthday today I was turning 13, and I was getting ready for school. Once i've gotten on the bus, I would rush to get or find a seat on the bus because once everyone has gotten in the bus there would be like 2 people standing up because they couldn't find a seat or the bus is pact. When everyone is situated people would either sleep or put in their earphones and would wait till they get to the school.
When we got to the school, I went straight to the cafeteria to get my breakfast and would chill out at a nearby table. A tall girl named Taylor scared me from behind and screamed.
"HAPPY BIRTHDAY ALIX!" she was the first person who remembered my birthday, she got me a bag of chips, and some money. The only class me and taylor had was math, but I had math in my 3rd period class so I had to get thru 1st and 2nd period to see her. When I went to my 2nd period class I got called into the office, once I got there the two ladies in the main office looked at me like they were feeling sad for me. They said " We've gotten an email regarding to an incident that happened to your father."
I called my mom to ask about my step dad, she didn't answer the phone. I kept calling her constantly, but the lady from the office said "Just go back to class and if she answers or calls back we'll let you know." When I started walking out the office, I kept getting worried. I made it back to class the teacher gave me the missing work I needed when I was in the office. I couldn't do any of my work without worried every second. I was so distracted with getting worried that I didnt noticed we only had a couple minutes before I went to my 3rd period class.]\
I went to my math class, and I was the first one to be there, it's weird that taylor wasn't in class yet because she would be the first one to be in class. Everyone began seating in their assigned seats , and yet taylor still hasn't came to class, I sent her a message asking her where's she at. It's been 15 mins, and she still hasn't texted me back, I kept wondering where she went, but seconds later *BOOM* Taylor comes with her mom bringing food for the class and she also brought a cake. I totally forgot that it was my birthday because I was too worried about my stepdad I tried not thinking about it and let it go for a while. Right when everyone was gathering around the table for the cake. Then the teacher's phone started to ring, then the teacher told me that I had a early dismissal. Everyone kept asking me why i'm leaving so early i didn't say and i just left. once I made it down stairs my mom was really upset.

When we went in the car, my mom told me that my stepdad got caught in a really dangerous fire and that his whole arm and face has gotten burned, we went to the hospital to check on him, my mom wouldn't stop crying i felt bad. We've gotten to the hospital and checked or clocked in whatever, so we went straight to his recovering room. I saw him there lying in the hospital bed with bandages all over his arms, his whole head was wrapped with bandages, the doctors came and asked me if I wanted to translate i said "yeah" and so what they're saying was that my stepdad would recover from this injury in about 2-3 months and his skin will get back to normal.
My birthday ended in a sad note, but my parents didn't forget my birthday they still got me my gift.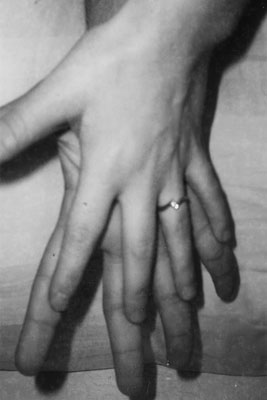 © Heather H., Phoenix, AZ