The Time I Missed My Heat
October 23, 2017
It was in the morning at 11:25 am, I was at home, preparing to go to De Anza College for a swim meet. I changed into my swimming clothes and got a towel and a granola bar. The granola bar flavor was the Oat's n' Honey type. When I got to De Anza College, there were a lot of people already. There were a lot of tents where people were sitting. There were people downstairs, there were people upstairs. When I got to the sign-up table, they said to wait for 10 more minutes because the papers on the table were for the morning meets.

10 minutes later, I came back to get to know which events I was in. I was in event number 22 and 40. Event number 22 was the 100-meter freestyle and event number 40 was the 50-meter backstroke. I wrote those numbers down on my arm with a sharpie. I also put my initials next to my name because then the people working at the table knows that I am there to swim. I went downstairs to put down my stuff and start warmup. When I put my stuff down, I found one of my friends. After I found him, he found another one of my friends. Then we found my last friend and started warm up. Warm up is swimming in the pool until the swim meet starts. For us, we just did 400 meters. After the warm-up, we sat down for a while and talked.

When the afternoon swim meets started, I went to check my heat and lane number for event number 22. My heat was 16 and my lane number was 5. I went and talked to the teacher about my heat and lane. I talked to him because that way he knows my time and he can keep an eye on me. I didn't know there was an even and odd side. My teacher didn't tell me either. I was waiting on the odd side lane number 5. So when it turned to heat 15, I thought I knew that the next one was heat 16. I waited over there for another minute and then the heat number changed from 15 to 17. That was when I knew and ran to the other side.

When I got there, it was too late. They already started the heat. An adult told me that the instructors called me and I didn't show up so they started without me. I had to wait for a long time for my next event which was the 50-meter backstroke.

When event number 40 got posted, I went to check my heat and lane number. I was in heat 14 lane 5. This time I knew there was an even side an odd side. I waited on the even side lane number 5. When it was my turn, I got into the water to get ready for backstroke. When the horn blasted, I pushed off and started swimming as fast as I can. When I finished, I looked at my time and saw that I got 40.3 seconds.

After my last event, my mom came and I changed back into my normal clothes and went home.

Now I know that there are swim meets with even and odds and swim meets without even and odds. I learned that I shouldn't rely on anybody else to figure out what I'm supposed to do, even my teacher.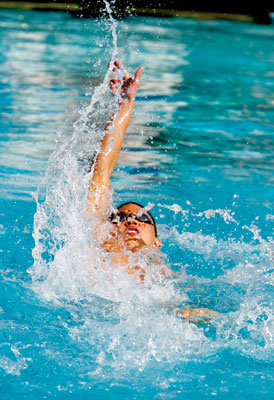 © Wenting C., Fremont, CA