A Bundle of Joy
October 23, 2017
As I had just finished eating the last bit of that cold potato soup, the seatbelt sign flashed on. Please put on your safety belt. Once put my uncomfortable belt on, I watched my older brother Nikhil put it on as well, not looking away from his phone for even a second. As I rested my head on the rock hard pillow and slowly drifted off to sleep. I could only think about the small chubby cuteness that we were going to see.
Most of my family lived in India which included Rohan and Ayan. They are both my first cousins they are brothers to each other. Rohan is about 4 years old and was very cute. He loved to do anything at anytime and never got tired. Ayan is 3 months old and very chubby. I can not wait to see Ayan for real because I have never seen him before. 
Welcome to Mumbai, India Chhatrapati Shivaji International Airport. It is Saturday, 11:28 AM and 99?F. Mama gently woke me up and told me that we had arrived. "That's it", I said as I dragged the last of the four suitcases onto the trolley. I tugged the heavy trolley outside as Mama said, "Do you see them." I replied, "No." After another two minutes of waiting, I said "Wait", as I saw someone running towards us about a foot shorter than me. I asked myself Could that be Rohan? I was proud of myself because Rohan ran up to me and grasped my leg. I said, "It good to me you too," as I thought When will I see Aryan? Once I looked at Mama I saw her hug her sister, Masi.
Beep! The old car growled as we arrived at my grandparent's fairly small apartment with all of our bags. I tried to stop the "conversation" with Rohan because he was so excited to see me so he talked and talked and talked. I wondered How small could Ayan be? Could he talk? Crawl? Sit? He can eat. Right? I had so many questions but most of all, I couldn't wait to see him!!! Before we went in Mama said, "Remember to touch their feet." We replied, " Yes Mama." Right after we touched their feet Nikhil said, "What is the wifi password" and pulled out his phone. 
"Ayan, your feet are so small", I told Ayan,"You are so smooth but delicate and your hair is so soft" He replied by drooling a little and moving his hands and feet. Every morning I saw him wrapped in this big cloth. He looked like a mummy except he is alive and you can see his face. I wondered Why is he rapped like that. Is it religious? I asked myself. As time passed by and I held him, fed him, and tried to play with him. It was getting over and I didn't want that.
Our bags were packed we were ready to go but we were going out of dinner for the last time in India. I slowly picked up Ayan and took him to the car. I was with Ayan the whole time in the car ride and at the deserted restaurant. Ayan kept moving in my hands while I was trying to eat my food. Mama and Masi kept insisting on carrying him so that I could eat my food, but I didn't let them. When we finally left the restaurant Ayan started shivering because outside it was raining. I tried to cover him and ran to the car.  While in the car with the now sleeping Ayan, Mama, and Masi I started to think When will I see you next? Will you be this small and cute? Will you fight Rohan? Will you be able to eat? Walk? Talk? I carried the sleeping baby up six floors to only see a closed door, which could only be opened by Masi who was still on the third floor. As I climbed up the stairs I could feel Ayan's breathe on my neck. Once she finally came and opened the door, I quietly walked into his room. I opened the door and walked over to Ayan's tidy, small bed. I gently put Ayan into his bed trying not to wake him up. I kissed him goodnight trying to not wake him up and said, "Goodbye."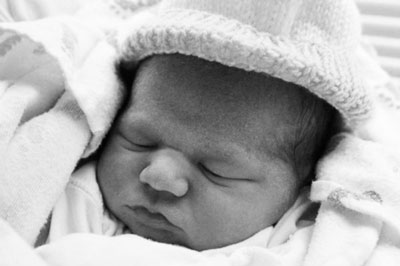 © Kaelee L., Petersburg, MI