Gift of Kindness
October 13, 2017
You know it's Christmas when you see people rushing around looking for the biggest deals on presents and when you smell that sweet scent of freshly-baked cookies. There's holiday cheer all around and there's also those grumpy kids who don't appreciate any gift. That kid was me… most of the time. I wouldn't say anything about what I got unless it was exactly what I wanted. I live in a house with my two brothers, one step-brother, and my step-sister. This is my first Christmas with my step-father and his family. Before I knew them it was just a simple thirty minutes of unwrapping gifts from under that beautiful tree covered in tinsel and lights. Now, it turned into a rush to get to three houses, my step-grandmother's house, my father's house, and of course my own house.
My brothers and I were new to this tradition. I thought it would be very awkward at my step-grandmother's house. Surrounded by at least 20 of my step-father's family members can definitely feel unwelcoming like a zebra in a tiger's pen at the zoo. The moment we arrived I began wondering when we could leave. We entered her house and were greeted with smiles and handshakes from lots of people who were new to me. After greetings, we started to eat a very nice meal. I still wanted to leave because it just felt wrong that I was being treated with such kindness from people that I hardly knew. After the amazing dinner, we moved on to the presents. The fireplace was lined with stockings. Since it was my first time there, I didn't really expect a stocking for me. I was floored when I was handed one and it was overflowing with wonderful treats. Then I noticed that I wasn't the only one who had a completely full stocking. My brothers also had them. Under the tree, there were presents on top of presents. My step-grandmother at this time was seventy-eight, and still she found time to go out and buy all of these gifts for her family. I didn't think much of it though, I was just happy because I was getting presents. Shortly after, we had to leave. The truck was completely full of presents. I remember giving hugs, but never saying thank you to my grandmother. Thinking back on it, I really should have.

Fast forward in time now to December 2014, it was the same routine, eat, talk, open presents. Every year my stocking was full, and there were countless presents. Still, I had the same reaction, "when can we leave." I was very ungrateful and also a homebody. My grandmother was 82 now, and loving everyone with all her heart. Again, after leaving her house, we had a truckload of presents. I could not believe it to this day.

Thursday, August 6th, 2015, I had walked downstairs after waking up. As soon as I turned the corner of my stairs to look into my living room, I saw my mother standing there, looking straight at me with eyes extremely red like they had been scraped with sandpaper. I looked at her with a concerning face and she said, "Kaleb, I've just got news from Aunt Linda," I interrupted and said, "What!" She continued and said "Grandma had passed away this morning in her sleep." I couldn't even move, it was like I was in a trance as soon as she finished that sentence. It was like I was being possessed by some spirit that just would not leave me and was squeezing my body at the same time. I just thought about how nice she was to me, and how I hardly ever talked to her and just wanted to leave her house at Christmas, even though she had loved, and supported me. I couldn't think of anything else to do but to be completely angry at how ungrateful I was. This is a lesson I will never forget. Always remember to treat family with respect, and always be open hearted to everyone, family or not. Everyone, should take account to that lesson, not just me.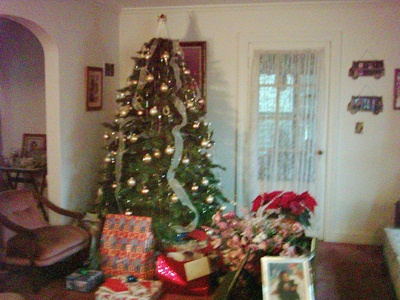 © Alexandria W., Hamden, CT