Steel Barrel
October 10, 2017
My oddly grey eyes widened and a grin crept onto my face as the drafting teacher held up one of our new drafting pencils in his slender hands. I quickly wiped the smile off of my face to save myself the trouble of explaining to people why I was so excited about a pencil. So many pleasant things came to mind as I watched the teacher wave around a package that displayed the word Zebra prominently on it's face. I imagined myself seated in front of a drafting board with my pencil resting comfortably in my fingers in the office of an engineering firm; it will boast my name proudly on the sign just outside. As the days rolled by, going faster everyday, my visions of my future only became more clear.

I never felt more powerful than the moment I griped the sharp knurling on the pencil as I ripped it out of the plastic that enveloped it. I felt as though my teacher just handed me the mightiest sword a blacksmith could forge. With it's dull, brushed steel barrel, sturdy metal tip, and minutely precise eraser, it was the most magnificent writing utensil that I could imagine. The moment the graphite kissed the paper, it began to glide in any which way I commanded with the sharpest lines a pencil could produce.

I gazed up from the mesmerizing grid of pale blue lines on the pure white backdrop of my graph paper and caught the teacher's slim stature out of the corner of my eye. He may not have known it yet but he has inspired me to become a far better engineering student and provoked an interest in things I never would I have considered prior. Although great teachers are often under appreciated today, I now have something to hold with me everyday to remind me that there are still people out there who are passionate about what they do. That pencil that my drafting teacher gave me will serve as a reminder to work hard in everything I do.

As I added my new drafting pencil to my arsenal of utensils, I envisioned myself carrying that very same item to crowded college classrooms, a miniscule cubicle office, architectural job sites, and eventually to my own engineering firm. Although it is merely a pencil, the power that it possesses is only limited by the knowledge that I hold. Through my journey to learn more in life and in my profession, my pencil's power will grow with me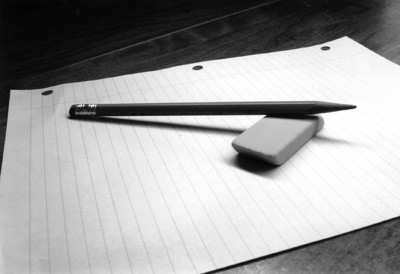 © Michael H., Mildford, CT