The Journey of a Lifetime
October 10, 2017
We sit on top of the mountain, knowing we are on top of the world. Exhausted after making a few thousand foot climb, we have finally reached the peak of the 12,441 foot mountain. It is a beautiful day with the sun about to set. We all look at each other and say " well we have time, let's get a game of Euchre in". I am ecstatic about playing cards 12,441 feet high, and I rummage through my bag to find the amazing, expensive deck of cards. I searched it to the moon and back and still no cards. My stomach drops and I spiral into reality that I cannot find my cards.

Step after step, same rhythm for hours on end, through the vast backcountry of New Mexico. Clouds roll over out of the blue and it starts to rain. The rain and wind slap me across the face telling me to move faster to get to camp and dry out. Puddles start to flow over our boots, and we slosh around in the mud. The rain chill me down to my bones, making me want to just give up and quit. And if you think that is all, hail starts to rain down on me like a meteor shower the size of pebbles. Thunder claps reminding me to stay cautious as lighting strikes a tree, charring the surface. We have to get out of this weather and out of this situation. We pull out our tarps and huddle around in a circle. Our hopes are diminished as we all are beaten to the ground. I have one last attempt to revive everyone so I pull out the light in the night and the heat of the day. It is a weather proof deck of cards, with embroideries on the edges. I see smiles all around me as I pull it out and I deal the cards around the horn. It lightens our souls, bringing hope and desire back into our bodies.

As I look down at my hands, I see the week's worth of dirt packed into the grooves and under my nails. My legs beaten and bruised with a dash of sand and dirt over top. Heat from the sun creates a flood of sweat that pours down my weakened face. My hair matted down from a hat being worn on for weeks on end. The aroma from our bodies is a mixture between dirt, sweat and onions. We all have been wanting to sit down and rest for the past 10 ten miles today, but we are only halfway to our destination. I remind people of what we are looking forwards to at camp which is our beloved card games and a shower. A shower would be amazing, but that is a luxury we don't get in the backcountry.

On top of the snow capped mountain, I look around, peeking through the clouds looking at the other mountain tops below me. All I see is blue skies and the bright sun, shining down on me. The wind gusting reminds me to not get so close to the edge, so I don't go downhill from there. I feel like I am weightless, looking down on everything, and it all looks so small. Lakes look like puddles, and hills look like rocks. I sit down and take in the view for a while. I think about all of my hard work and over a hundred miles to get to this point, but it is all worth it. A beautiful eagle flies over by, congratulating me for my success for achieving my dream… being on top of a mountain at 12,441 feet.

The accomplishments that we have done is amazing. We wrap up everyday with games of euchre to release our stress, and to let us relax. At the last part of our trek, I somehow lost the deck of cards, depressing everyone. We were lost without them, and did not know what to do in our free time. On the last day, the brutal hike back into base camp, we find another crew hiking and talk to them like always. We find out that they are from Alaska, and they talk about their trek. At the last of their story, they talk about how they found this deck of cards, on top of the mountain. We all could not hold our excitement and ask if we can see it because we lost a deck of cards. Lucky enough it was our deck of cards, and he graciously give it back. Him handing us the cards was like an angel, giving us a present. Our spirits our lifted, and we are pumped to get back to camp. The excitement and the hope is brought back into my group,and we "hike on" as we call it. I am very glad that we got our happiness back into our lives, and also it was a 40 dollars.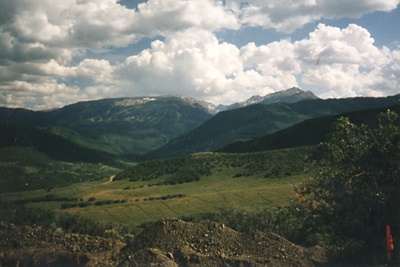 © Photo by Michael B., Denham Springs, LA