I Will Go
October 10, 2017
Dear Young Boy,

My eyes were closed softly. I could feel the cold wall against the back of my shirt. It felt good to be back inside of an air conditioned building after a long day of sweaty, manual labor. Soft voices spoke all around me. As quiet as they were, they sounded powerful. If I opened my eyes, I would see people all around the room laying hands on each other. About two hundred people filled that little church, in a ghetto of Detroit. The building was adorned with shattered stained glass windows, mended and barred shut. It carried a lot of history, not all of which looked bright. It was just a small building found at the end of Military street. It's red brick walls and hot cement steps absorbed the July sun. At the bottom of the steps, near the broken asphalt road, stood a sign tall and proud: Courage Church. As run-down as the area was, I had never felt more safe than when I was leaning with my back against that wall. The brokenness of the world was left outside. I felt a protection over me, like a force field in an old video game. Danger could not enter, for our warrior was standing guard. Here in the presence of God, with faint music playing beside me, I felt calm.

I felt a firm hand on my shoulder, and listened as a girl started to whisper a prayer in my ear. I didn't know what she was saying, for she was speaking in the Spirit, but I could hear the authority in her voice. At that moment, my eyes were overtaken and transformed. I peered up, and in front of me sat a young boy, no older than 8 years of age, kneeling on the ground. He was dressed in a worn-out, oversized green t-shirt and rust colored shorts, bearing many holes, yet he looked so happy. He glanced up at me and reached out his hand to reveal a small wooden top that he had been playing with in the sandy dirt. That little boy was you. I felt my heart shatter into a million pieces, leaving me struggling to pick up the pieces. I gasped for air, but my lungs remained empty. A million thoughts raced through my head. In my frantic state, I heard a voice. Strongly and authoritatively, I heard God command: "Africa." I awoke from my daze to find my body shaking, and hot tears streaming down my face. The vision had felt so real. It was more vivid than any dream.

When I face trials or go through tough situations, you are the one I picture. I am in the process of forming my testimony so that I can someday make my way to you. I carry hope and faith that God will provide. I will bring the light of the word to you, which is the greatest gift of all. The best way that I can describe the power of faith, is by comparing it to a brand new pair of glasses. You have no idea what you were missing out on until you put them on. Your reality shifts abruptly as you notice a whole new world of beauty and intricacy down to every final leaf on a tree. His handiwork comes to light and you see the careful, meticulous planning that had gone into the creation of the world around you. You feel warm, as the visuals come to harmonize with your remaining senses. You hear birds singing their sweet songs from the tops of the trees. Have they always sounded that loud? That beautiful? The world seems brighter, as the sun reflects its rays off of each dewy blade of grass, and you think to yourself, how could I not have seen this before?

I carry the memory of you with me, through all I do, as a personal reminder that I have a goal, a purpose, that I am called to fulfill. Whether I find my way to you or not, I know that His will will be done. I am drawn to you, for you have brought me hope and strength, and I will go.
From,
A Friend with Faith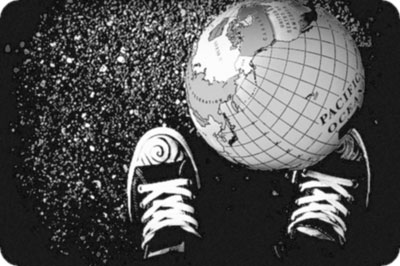 © Kailey E., Crownsville, MD