My Ring
October 10, 2017
August 17, 2017

Dear mom,

Lately I've been torn left and right with my feelings, i know you always said to be careful with my heart, but there's this girl and when i'm with her i don't want to be careful. When i'm with her, it's like the world stops and it's only her and i. She's beautiful in her own way, not the way you would find in a movie or a magazine, but in the kind that when she walks into a room all i can do is stop, stare, and smile. Forget butterflies, when i'm with her i feel the whole zoo.

What i'm writing this letter for is to tell you that i think i'm in love, and i didnt realise until the day she gave me the ring. It was a hot summer day, it was also her birthday, but it was the first time we had seen each other since we snuck around at the school. She had presented me with this ring, it's a dark sterling silver, with metal in the shape of swirls, and a purple/turquoise gem in the middle. I never take it off, unless i'm taking a shower or in a race that doesn't allow jewelry. When she gave me this rin we were in a tough place, we had taken a "break" over the summer because i decided that i need to focus on myself.

Occasionally when i look at this ring, i can picture her in the small shop where she got it up north. She was frantically texting me asking what my ring size was, i hadn't had my phone on me so it was a while before i had said anything. But all i can see is her in the small shop, frantic over me not responding, and when i finally did, examining every ring they had in my size extremely carefully. I can see her mother getting impatient and her dad just laughing because he still remembers acting that way about her mother.

If you want my honest opinion, i don't think Amanda remembers what it's like to be a teenager and have fun, she expects too much out of Katelyn. She's the kind of person i can see as both a kindergarten teacher and a military sargent, i guess that's why she works at a school for kids with behavioral issues though. The job really fits her personality, when i'm around her i feel like i'm doing everything wrong. I feel like i'm dressed wrong, like i breathe wrong, like i walk wrong... It feels like there isn't a single thing about me that's worth dating her daughter.

The day that kate gave me the ring, we had exited kate's room, and it felt like everyones eyes were boring into my right hand staring directly at my ring finger. I had bought a personal bouquet of flowers and put together a box full of things that are blue for kate, compared to what she had given me, i felt like i had really not done enough. As i entered the room her mother and father were in, i knew my face was beat red, they always made me feel like i was guilty about something. The anxious feeling in the room disintegrated when i had realised my friend sofia was still standing next to me. She's like a good cushion person, she takes the impact of everything that's going on in the room and switches it around and makes everyone happy.

Being in Kate's house is like being at a museum, you feel like you should be whispering and like you should not come within two feet of anything. There is only two teenagers there so it's not like they have to really worry about baby/child-proofing everything. The air is thick with unsaid words between her parents, and judgement from all angles. All together it is not my ideal place to hangout with her. We pulled out of the driveway of her cookie-cutter house and drove away from the sub division. We were heading to Indian creek zoo, when we get there the car creates a dust storm from driving through the incredibly dry parking area. As her mom pays for the three of us teenagers to get into the zoo, i feel like she can feel my anxiety. She knows that i'm a respectful teenager and that i can't help but to make eye contact when conversing with someone, but she also knows that she scares the absolute crap out of me.

When she left, we entered the zoo, and Kate immediately took my hand when her mom was out of sight. I felt this surge of happiness radiate throughout my body. As we walked through the makeshift zoo everything seemed better than when i had gone a week prior with my family, i had more fun, the animals seemed more interesting and active, the trails didn't seem so bland and long. The only real difference from the times i was there before was that i was with her. The girl that makes my heart skip a beat, i love to appreciate the times when it's just the two of us, when we can just be us without our parents looming around the corner and watching our every move.

When i wear the ring she gave me i feel full, complete, without it i feel naked, like i'm missing a piece of myself. It gives me the confidence to do things i wouldn't usually do like speaking, singing, racing, etc. Without it i feel like i'm vulnerable, like anything and everything will go wrong.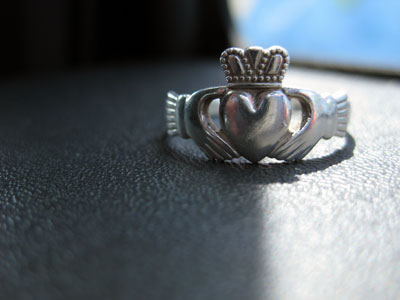 © Kaelyn L., East Northport, NY