In Irma's Path
MAG
October 10, 2017
On September 6, 2017 Hurricane Irma reached St. Maarten. It caused destruction everywhere, knocking trees over, wrecking houses, and throwing cars. The storm was bound to cause some damage for my family, since my aunt and uncle owned a house there. But that wasn't the real problem; my uncle was stuck in the house, 50 feet from the shore.

As Hurricane Irma approached St. Maarten, the people on the islands were told that it was a Category 3 to 4 hurricane, but that they should be fine. Meanwhile, in America, we knew how serious it would actually be. By the time my uncle learned how dangerous the approaching hurricane was, all planes had been grounded.

When the hurricane hit the island, we could no longer reach him. Everyone began to worry more and more. The hurricane was ripping apart buildings, flooding streets and houses, wrecking cars, and knocking over almost every tree. The island was being destroyed.

After three days of nervous waiting and calling, my uncle finally reached my aunt.

The house was gone. The roof had been ripped off in the first part of the hurricane, and the entire second level was flooded, the kitchen table was gone, the mattress in the living room, and the couch in pieces. The windows on both levels had been smashed, and the lower level was also full of water. My uncle barely made it out, and survived the second half of Irma locked in his concrete shed.

Three days later, the U.S. Navy picked up all American and Dutch citizens from the island in three AC-130 airplanes. They took off from the least destroyed piece of tarmac, and they were all dropped off in Puerto Rico. After a week there, amid threats of more hurricanes approaching, my uncle was finally able to get home.

This experience made me look at and question the way I was living my life, especially how I was interacting with my family. I had to think honestly about the way I was spending my time. Was I making the time I spent with my family as meaningful as it could be?

This experience made me realize how a loved one could be taken away so quickly. It taught me that you don't realize how much a person means to you until they almost die. It showed me the value of every single one of my family members, and made me see how different I would be – how much worse off – without them. They are all part of the person I am today, and have all helped me and loved me. I love them too. I don't know what I would be without them.

With my new revelations I knew I needed to make a change. That change started with my close family: my parents, brothers, and sister. I found myself spending less time with them as I got older. I would often put friends over family, and it wasn't right. I knew I needed to put family first no matter what, and be with them as much as possible.

After Hurricane Irma, I realized how our time with loved ones can be cut short at any moment. We have to make the best of the time we have. And I have vowed to do that.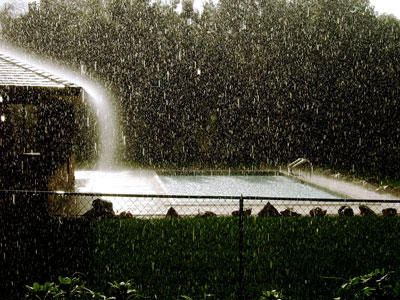 © Chelsea C., Auburndale, FL