It's Like I Never Left
October 9, 2017
Football was my source of energy and I could feel the adrenaline rushing through my veins every time I stepped foot onto that field. Football has been apart of my life, basically since I was born and I have loved every second of it. I grew up in a football type family as I watched it throughout my childhood and also played since kindergarten. Life without football for me is like making fish live without water, it's just not possible. The love that I give to this game, and the hard work throughout, can show anyone what the sport of football means to me.
Everything went amazing during my athletic career and high school was right around the corner. I was attending Don Bosco Preparatory, and football sign-ups were a week away. I planned on playing football up until college, but as a saw what type of people was playing I had to really question if I would play. Don Bosco is open to anyone meaning you could come from any state, any town, and they recruit. For example my one friend Jalen Berger, who is from Newark was the running back. I knew that I would never play because that same kid Jalen was running back, and is ranked #1 in the State, #64 in the Nation, a 5-Star Recruit, and has offers from over 12 D1 schools as a freshmen. Things like this are just unheard of and for me as a running back, it put in me in a very tough position. I knew that being apart of the team would be a feeling like no other, but I also knew that my playing time would be very slim or I wouldn't even play. I had a choice to make, and it made me really consider quitting football.

Football would get closer and closer each day. I really thought to myself and I finally made the decision to leave the game I love for my freshmen year. The year was rushing by and as the football season kept on rolling I decided to not play, but at least be involved. I talked to the Head Coach at the school and got the role of manager. I was able to travel with the team, and stay on the sidelines. Even though it got me close to the field and I was able to be apart of the team, it wasn't the same as actually playing. The feeling that I get every time during warm-ups only happens when I'm on that field. The school year had ended and everything went well. I got good grades, I made the basketball team, but I wasn't playing football.

This summer was when I really did consider leaving and to head to a new high school where I could play football. Everyday I thought, and kept thinking where I should go to school. Finally, on the second day of school I felt like leaving Bosco was the thing to do at the time and see what my experience at my new school would be like. I knew that at Bosco although I could join, I wouldn't really touch the field. My school provided me with the opportunity to be closer to home, and to return to the sport I loved, which was football.

On the first day at my new school I realized that this is so much different from what I'm used to, and a new chapter is beginning. I had to find my way to the Coaches office. I talked to Coach Gibbs about playing football, as this was a big factor in me wanting to go to there. As my day went on I kept receiving comments that I wouldn't play, or that I am so stupid for joining this late. I went to practiced and gave it 110%, as I wanted to show everyone that doubted me, that they were wrong and I can have a great impact on this football team. I suddenly saw the differences to Bosco and it made me happy that I was part of a team again, where every Friday and Monday I would put on that Green Jersey and take the field once again just like I had in the past.

As football means so much to me I couldn't walk away from the game this easily or this soon. During this whole process I focused on the benefits that would help me if I did transfer here to play this sport that I love. It was a road that I went down, that made me seriously consider what I wanted to do in High School. I knew that obstacles are going to come and it's going to take time for me to not only get used to playing football, but also coming back to public school. It was a huge change for me and I am still getting used to it today, but the most important thing is to never give up on your dream and to always follow your gut, as it will lead you to live life to the absolute fullest.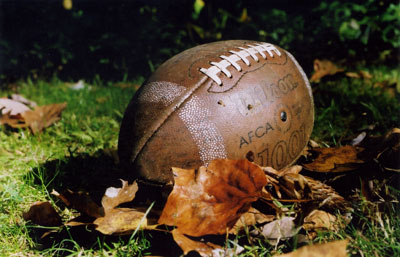 © Michael L., Bethesda, MD