Splash
October 8, 2017
When I was younger, I was described as nervous and weak. This would change.

It was the beginning of August, the weather warm and humid. The school year was approaching, one last trip of summer remained.

Travelling to the beautiful island of Bermuda. It was only an hour and a half plane ride making it easier for me to contain my excitement, knowing the trip was not too far away. My hands shook, while my heart beated out of my chest. A smile was permanently glued to my face.

Arriving to the sunkissed beach, smelling the crisp, salty ocean, feeling the soft, delicate sand on my feet, and listening to the sound of waves crashing. Gazing out to the light blue ocean, my eyes moved directly to a huge boulder not too far away from the shore. People jumping off and climbing back up.

My family swam out to the rock, the rigorous current pulling us back to shore. My hands ripping through the waves, trying to swim as fast as I could.

Climbing to the top, hoping my foot wouldn't cut open on the ragged edges and start to bleed.

My brothers went first.
Splash.
Next my parents.
Splash.
Now it was my turn. I stood there without moving. Looking down into the crystal clear ocean being unsure of my actions asking myself should I do it?
Ten Minutes, Twenty minutes.
Two days later, I still hadn't jumped. It was a continuous cycle of climbing down and getting right back up. The next day, I told myself I would do it. The question was when?
The day came with the current pulling me back like it was a sign not to jump, fighting the resistance. Nothing was going to stop me.

My dad telling me I could do it and to have no fear.

I stepped out to the edge of the rock, telling myself the only way down was to jump. Climbing down was not an option this time.

Taking a deep breath, feeling my heart stop, the leaned in to jump. 1, 2, 3 go!

Splash.
A compelling rush started at my feet and made it's way up my body.

My body was fully submerged into the water. I came up for air with the sound of my family cheering for me. They were proud of me, almost as much as I was proud of myself.

The feeling of accomplishment was the best part of the whole vacation. Now, my parents couldn't get me to stop jumping off. The rock was irresistible to me.

This was the turning point of my life. Now, I am not nervous or weak, but brave and strong.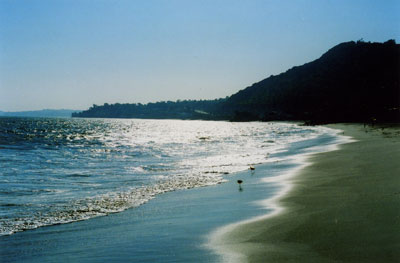 © Adam L., Washington, DC