Who They Used To Be
October 4, 2017
They started out freshmen year completely unaware of each other's existence. I know this because I was there to witness their first encounter. The way they looked at each other when their eyes first connected was the way a mother first looks at her newborn child. A feeling of instant unconditional love. I could tell by the smiles on their faces they were doing somersaults in there stomachs and twirls in there thoughts. They were meant to be. It was a young fresh love.

They soon neglected all their friends to be able to spend more time together, they did everything together. If you were ever looking for one of them you knew you'd find them leaning against her locker kissing,hugging,or laughing. If you had a class with one of them they'd always be the last to walk through the door and the first to leave when the bell rang . They'd rush from class to class to get a glimpse of one others company. At least they used to.

Sophomore year everything changed. I never thought they fought, but now that's all they do. Instead of him grabbing her waist with a swiping motion of delicacy to pull her in and kiss her,he kept his distance in the fear that she might punch him in the forearm for something stupid he had done the night before. She said he was always doing something stupid. He said she was always reacting over nothing. I never knew which side to believe, and I never knew what stopped them from eating lunch together in the corner by the ag biology room. He claims he couldn't handle being around her constant need for attention. She claims his friends put him up to it. It's not hard to believe, his friends never really cared for her. But when they started saying annoying obnoxious sarcastic comments to her face relating to her personality I could never understand why he never defended her. The old him would have. When they first started dating he told me how beautiful she was and how lucky he is. They went from being completely invested in one another's world to slowly becoming an outsider in eachothers univerices. What happened?

Soon the fighting got unbearably uncomfortable for everyone to be around. Every argument either seemed logical like as if they were policants in a political debate, or completely immature like they were children complaining about not getting what they wanted. Then with a flip of a switch there relationship was healed again with a bandage of love that covered the new found hatred for one another. But wounds don't just instantly go away no matter how many bandaids you put on it. They seemed fine for awhile but like all good things there love died young.

Everyone knew about it the day that it happened by fifth period. Everyone whispering and giving the same reaction of disbelieving that they had the capability to actually leave one another. There were many stories about why he left her. The most popular was that he found someone new. The truth on the other hand was that he just wasn't happy anymore. He said he's been trying for months to fake a smile, but that he can't just manage to fake it anymore. Wow! He prolonged the breakup for so long because he had a belief that maybe things would change and maybe he wouldn't have to try so hard to be happy with her anymore. Things didn't though, at least for him. She thought things were just starting to get better and that they have more chapters in their book, but he decided there book was no longer worth the hassle of continuing.

She was completely distraught about it and it didn't help having everyone constantly reminding her of it by asking if she was ok. Hugging her says it's not her fault. I personally added to it to by tellings her she lost someone who didn't care about her and he lost someone who loved him, thinking it would make her feel better, but it just made her feel worse having it just kicked in, in that moment that he stopped caring about her . It's not that she didn't appreciate people's sympathy, she didn't like why they were being sympathetic for her. She just lost the love of her life. Someone she never thought would leave. But he did,and people asking her about it made the situation less like a horrible nightmare she thought she was having and turned into something more real. Because the whole situation was real. he didn't want her anymore.

She went home the day of the separation and starerd at the pictures of them on her wall. she contemplated for hours on the phone with me crying, begging me to give her an answer as to what she should do about all these pictures that she held dear to her heart. We both believed that she shouldn't take them down because they'd just make up get back together tomorrow and everything would be fine like they never separated at all....That was until someone sent her a picture of him making out with another girl on the bleachers. after crying her final tear she decided at 11 o'clock to take the pictures down all they where doing is mocking her, reminding her that he's never coming back. and he never did.

From there The depressing demeanor of what felt like a divorce dictated their whole relationship. They very quickly became strangers.

I see them all the time, They walk through the halls on to separate sides pretending like they don't know who the other one is. Like they didn't almost spend one year of their live togther and every moment thinking of the other when they weren't around. They act like they don't even know the other person's name when they used to know everything about each other. When you ask how the other one is doing, they say they stopped caring about what the other does. Of course they still care though if they didn't they wouldn't purposely do things in front of each other to get the other ones attention. If they didn't care they wouldn't mind to be around each other but because they do it hurts to much to be in eachother's presence, look in the other ones eyes and feel all those feelings rush through their veins again. It's clear to see that they're not happy. They're not who they used to be.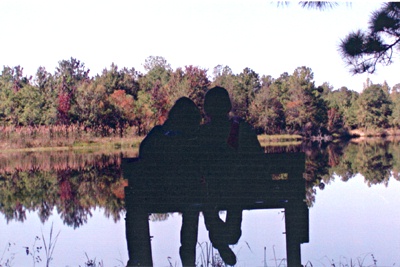 © Heather J., Slidell, LA