Our Place in the Sun
MAG
August 31, 2017
"Do you want a vending machine or a flat-screen TV?"
The August sun was reddening our necks as we filled our lungs with the smell of freshly mowed grass and non-toxic markers.

"We can totally fit both," I said in response, drawing bags of pretzels and potato chips for the snack dispenser. "But obviously the TV has to play Spongebob 24/7."

Catherine, smiling in silent agreement, turned and began to draw its black outline and large, red power button. From her focused corner of pure, eight-year-old artistry, I heard her mutter, "One day, we're gonna have an RV just like this one. With a vending machine and a TV and everything."

Right in the haze of the summer, we were constructing a cardboard chariot with its GPS set for the world beyond. My great aunt's backyard never seemed to be enough to satisfy our insatiable appetites for adventure. Sitting side-by-side in a refrigerator box of juvenile decorations and far-flung fantasies, we watched the sun rise from a silent slumber, peak in sweltering midday, and set to a starry goodnight. The box was ours; our only cohabitants were well-loved plushies and sweet, chocolate-banana popsicle stains.

"Hey, you know what I just remembered?"

I finally blinked and looked away from the yellow strip of grass in the middle of the lawn.

"What?"

"The big box we used to have as kids. That thing was crazy." Catherine always had this amazing ability to say exactly what I was thinking. "Ha, I wish my car had a vending machine."
The corners of my lips turned slightly, but I don't like the taste of nostalgia. Quickly, though, I responded, "You know what I wish? I wish they still made those banana-chocolate ice pops."

Sitting side-by-side on painted, wooden beach chairs, we watched the sun crawl behind the trees, occasionally peaking out from behind the branches. Catherine's legs stuck to the seat as she tried to stand up, her mother's call resounding from across the driveway.

"Do you want to help me pick out some decorations for my dorm room?" she asked me through clenched teeth.
"I'll be there in a sec."

I remained there for a minute, feet planted firmly on the ground. I looked back at the yellow patch of grass. The backyard was enough.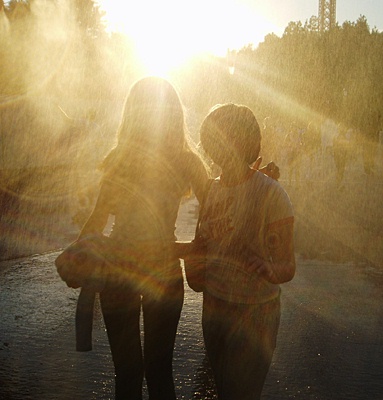 © Rebecca Y., Los Angeles, CA