An Haircut
September 6, 2017
I enter my classroom; my bus comes quite early, there are barely any people in the room. I raise my hands up to my face, hiding it and took a seat by the window. Cold winter wind hit my cheeks making them sting, they blush down to a deep shade of red. My wheat-ish skin now glowing like a ripe tomato shone bright against the clear winter sky, though windy. The perpetual and heavenly sunshine got defeated against the cold heartless winds that took way the warm essence of its eternal glow. The shuffling of benches, the heavy "humph" of people keeping their bags down and soft voices of people talking filled my ears with a hungry lust to turn around and mingle. The internal battle to turn or to not to was won by my shy and self-conscious side. I lower my hat and keep looking out to the view of the lush valley that adored the scene, with cows feeding off the grass and a river of people from kinder garden to senior year, pushing and shouting with their breath heavy from walking a long distance from the bus parking area.
'Hey Silver, What's with the hat?' as she entered the class.
'Umm… I felt like wearing it today.' I replied.
'Don't tell me lies, come on take it off', she scoffed. There was a tone in her voice that acquired a certain notoriety.
I shrugged my shoulders, trying to avoid and brush it off as passively as possible.
' I don't have time for your infidel theories. Did you finish the Physics homework?' I replied.
'Don't be a sarcastic brute!' she exclaimed.
Ignoring her pleadings, I turn my attention again to the window. Before I could have thought or imagined, the hat went off my head and my freshly cut short hair tumbled down till my jaw. Sometimes, I don't know if she was my friend or my enemy. By the time I knew, I had become the attention of the whole class. Nobody laughed, nobody commented.
'Well, at least you look like that footballer, um Bale. Yes him.' She said uncertainly. The whole class erupted in an eerie flow of laughter.
Tear droplets made way to my eyes, my black locks looked brown against the yellow sunlight. It was odious of her to rub this in. I blinked them away, and sat at my seat laughing with them. Silently, losing my faith to be revived again, after a momentary lapse of happiness and to be violated again.
I guess this is what life is all about.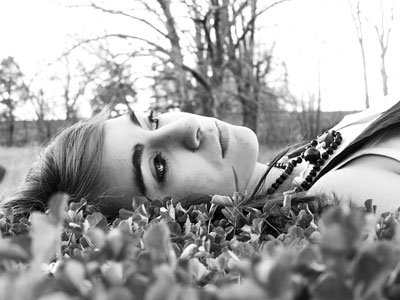 © Jasmine R., Bourbon, MI