Fallacy
MAG
June 30, 2017
I opened the thin glass door to escape the humidity of Texas, and swung a hard left into the fast food line. I leaned on the pole that held the plastic sign, "Line Starts Here." Thomas, the cashier, waved and ordered me the usual. They classified me as a frequent customer. My staple: A #3, eight-count chicken nugget meal with a large Sprite.

Thomas, around 19, wore long, choppy hair that swayed a bit below his ears. He was clothed in perfect uniform: a red polo embroidered with the restaurant's logo. A cross dangled from his neck as he drummed his fingers along the counter. His blue eyes glanced at me, and the bags beneath his eyes pushed up as he smiled. He asked about my day, and I replied with the usual "Okay."

Bright red tiles lined the back of the counter. Behind Thomas, three women put together my meal, then handed me the white bag with the logo on it. I smiled, put my headphones on, and filled my cup with ice and Sprite. Thomas stumbled up behind me and handed me the straw I had forgotten to grab. As usual, I thanked the crew and walked home, snacking on salty waffle fries. For years, every evening, I strolled through the door and talked to the cashier. I was almost certain they had a button specifically for my order. Even when I appeared in pajamas with a messy top-knot, Thomas smiled as I entered.

Then, one day, instead of going alone as usual, I walked through the doorway holding hands with my girlfriend, Samantha. Thomas froze – his face pallid. I waved at him, but he didn't move. No other customers were eating in the restaurant, so I called out his name. He stepped away from the cash register as if I had a gun in my hand. It was only my girlfriend's hand, but maybe to him it seemed just as dangerous. Thomas held onto the counter, and his knuckles turned white. I told him I'd have the usual, but he still had yet to move. Shaking, Thomas closed his eyes and stepped to the cash register.

"And what does that Sinner want?" My eyes widened. I took my hand out of Samantha's and placed it on the counter.

"Just the usual."

I noticed Samantha was almost crying. She grazed my shoulder with her clammy hands. The tendons in her neck pulsed. Thomas pressed the buttons on the cash register and told us our order would take longer than usual. I took the Styrofoam cup and went to the drink dispensers. I filled the cup with Sprite – no ice. Samantha murmured that we should go, but I waved her away dismissively.

We waited thirty minutes for a meal that usually takes two to make. I held Samantha's hand as I approached the counter. I watched the women in back as they tried to put together the meal, but Thomas continued to delay the assembly line.

"This is so immature, Thomas. It's just a meal." I rolled my eyes.

"This is inappropriate," Thomas responded. "Completely against restaurant policy. Leave now."

Samantha tugged at my sleeve, guiding me toward the door. I glanced at her; her eyeliner was pooling beneath her eyes. She mouthed, please.

Thomas raised his eyebrow at me, and I followed Samantha out of the restaurant. I pushed open the glass door, and it hit the outside handle, scratching the surface.

In the parking lot, I hugged Samantha, feeling her breath dance on my skin. I stroked her hair as she cried. We walked home without fries, hand in hand.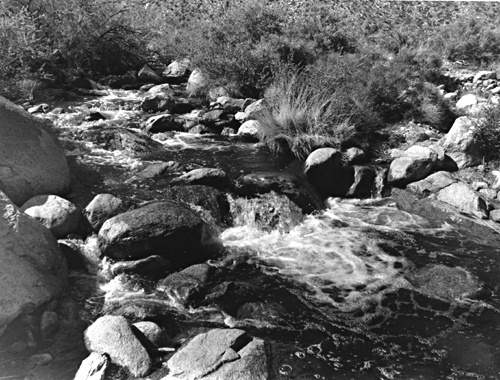 © Becky S., Stony Brook, NY