Never Thought Anything of It
May 22, 2017
Gymnastics has really taken a toll on my body over the years. I have gotten many injuries and I have a lot of long term injuries that will stay with me forever. I have a lot of joint problems and I've had back pain since I was about 10 or 11 years old. I never really thought anything of it because most gymnasts have back pain. But, recently my back started to really hurt and I ended up going to the doctor and he told me I needed to make a decision to stay in gymnastics or quit. I chose to stay.

Just a normal day I was working out and we were on our first event. My back was hurting a little bit like it always does, but I kept working out. I was going through bars, the first event, and it started to really start hurting and felt really compressed so I asked my coach to crack my back because it always makes it feel better. So he cracked it but it didn't help and it was really hurting so I was standing at the chalk box just trying to loosen up a bit. I went to take a turn and I did a kip cast and my back completely gave out on the bar and I just fell into the pit. I started crying because I felt paralyzed. I got myself out of the pit and just sat there crying not being able to move as I sat in a ball. I looked at my other coach Matt and said "Matt my back hurts so bad I can't move." He turned around very concerned and had Natalie go get me ice. I was able to lay down and I was just icing. My mom had to come pick me up from practice and it was hard for me to get up and walk.

I explained what happened to my mom and she also seemed concerned. The spot my back had given out was my mid-back and usually its my lower back that hurts. I tried to go to school that next day and I had to leave early because as I was in math I was crying in so much pain. I had missed the next day of school and I went to my pediatrician to get it checked out. He was telling me how it was probably just a muscle spasm. He gave me muscle relaxers and had also checked out my back. He asked me to bend over and I told him how it hurt and he asked "Where?" I told him "It hurts my lower back."

After I told him it hurt my lower back he got very concerned telling me it could be a possible stress fracture in my lower back. I was very surprised because I went there for my mid-back and ended up finding possibly worse news on my lower back. My pediatrician told me I needed to see an orthopedic doctor. My mom made an appointment with a doctor he had recommended. I had waited 4 days and that day I was supposed to go he had cancelled on me. He rescheduled for a week later. I was so anxious to go because I was sitting out of gym, and my coaches were limiting me on what I could do at gymnastics.

Knowing my back had hurt for so many years I had never thought anything of it. As I waited a week I finally went to the doctor. I got there and they did all the normal stuff they do like take blood pressure. They had me change into a gown and they had taken me to get x-rays. They took about 4-5 different x-rays. My mom and I sat there for about 10 minutes waiting for the doctor. I was sort of freaking out because I was hoping nothing was wrong but also hoped something was there to explain why I always have back pain. The doctor came in and asked me a few questions and then said "So we didn't find a stress fracture but only 40% of stress fractures show up on x-rays.To see if you have a stress fracture or a disc problem you would need an MRI."

As he kept asking me more questions he had told me it could be two possible things which was a stress fracture or a disc problem. He said that 3 of my symptoms pointed to having a disc problem and 3 pointed to a stress fracture. He said that if I were to get an MRI and something were to show up I could be out for 4-6 months which was practically my whole off-season. I was told I had to make the decision of either quitting gymnastics because there wouldn't be a point since I'm going to be a senior or I would just have to be in pain and get the MRI after next gymnastics season. I had asked "If I wait, could my back get any worse?" Dr. Simmons had said "It won't get worse but you'll have a stress fracture for the rest of your life." When he said that it had hit me like a truck, did I want to have a stress fracture for the rest of my life or just quit?

I made the decision to stay in gymnastics and get the MRI later because I really wanted to get good at gymnastics for my senior year. It was really hard for me to think about it but I did. It's one of the hardest decisions I've ever had to make and I hope I don't have to make another one as stressful as that.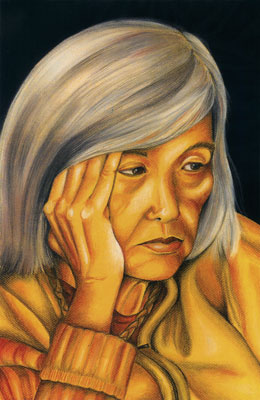 © Kaitlin C., Forest Hills, NY