Respect? What Is That?
May 19, 2017
My dream is taking off.
For once, I'm actually getting somewhere. Maybe it's because I'm using my voice for once. Sure, I'm not actually using my voice, but ink and paper spills my voice, my true colors into the world like a paint can tipping over and spilling all the paint from inside. So what if some people don't like what I have to say? Other people do, and as long as I know that, there's no reason for me to give up on fighting for what I believe is right.
The principal at my school is retiring after this year. I don't know why, but I feel like it has something to do with how disrespectful almost everyone at my school is towards not only her, but most other teachers, too. It's not fair. They call them mean, rude, bad teachers. They talk over them and don't care what they have to say. They ignore them and wonder why teachers are annoyed with them the next day when they ask questions about things the teachers taught the previous day. They call them mean things, not only through oral conversations, but by scratching into the stalls whatever names they feel the teachers deserve.
Yes, I'm glad that my dream is getting closer to being achieved, but I'm extremely disappointed with humanity- with kids and teenagers of this generation, and with the disrespect all teachers receive from not only them, but everybody else, even each other sometimes. My mother works in the school district, and some of the other teachers have started saying about her, "don't poke the bear." Other teachers are ignored by students when trying to have conversations with them, only to be yelled at by that very student when they keep asking them what they asked the first time. Yet others have been told to "go f yourself."
It's not right for students to be treating teachers like that. It needs to stop. How would they like it if teacher's treated them like that, I wonder? Surely they wouldn't like it, right? So why do they have the right to treat teachers like s***?
They don't have it. We've stopped caring about each other and started caring only about ourselves. Respect isn't something to earn; it's something to be automatically given to those who are older than you. Yes, I've been published a second time, but just because I have doesn't mean I'm going to act as if I'm better than everyone else. All of my teachers are excited to see the magazine with my second publication. None of the other students care that I'm started on my way to my future as an author. No one.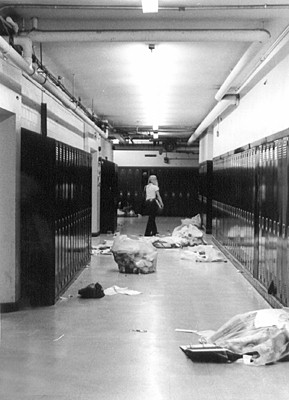 © Halsey S., Marblehead, MA