Under the Same Sky
May 15, 2017
When I moved from California I felt a great loss. Everything was different in Texas, and I wasn't willing to adjust. I didn't want to make friends or enjoy going out to see the town. I didn't want to go to a new school and didn't want to re-invent myself. Everything about leaving California was terrifying, abandoning everything we loved and cared about. I just wanted to stay in my room and look at the things we were able to save during the move.
Goodbye letters, gifts of art and crumpled pictures of young faces scatter my walls, reminding me of people I wouldn't see again. Staring at the wall with only the past going through my mind, I hardly noticed the room growing darker. I was only able to snap out of daze when I grew too restless to stay still any longer. Sitting up in my cramped bed I contemplated what to do to keep me from boredom. After a few minutes, I decided on going to a park that was about 15 minutes away from our house. At least, it was in California. Now it's just another memory.
Millions of curious lights hovered past the clouds, seeming to look over me, focusing on my very being. Giving them all of my attention, I scanned the night sky — searching for answers to questions I never asked. I thought if I stayed there long enough I would be at peace with the world and myself. Those magnificent, mysterious stars I loved so much, I felt they loved me back.
Standing on the damp grass in my backyard I was alone, reluctant to go back inside after dinner. The sun had set not too long ago, taking the warm breeze along with it and leaving a soft chill behind. At the time, we lived in a small house away from town and close to the hills, giving us open land and quieter nights. My imagination was running wild, trying to figure out why those twinkling lights in the sky were so beautiful to me. I felt as if I should always be watching them, as if something extraordinary was always about to happen and if I looked away I would miss it. So I always kept my eyes on them.
It took me awhile to get over my grief for the park, but I finally convinced myself to get up and make my way outside. It was dark enough to barely make out the stars in the sky but I already knew where most of them were. Spotting the brightest and most familiar stars I traced their formation—recognizing Orion's Belt instantly. A wave of comfort washed over me, making my heart swell. Looking up at them I subconsciously felt at home and safe.
The glimmering, beautiful lights looking back at me gave me new hope about being here. My hand lifted itself up, reaching for them as if I could grab one and hold it close. The thought of 'home' was no longer a state or house, but a feeling of reassurance and peace. I thought, for a small moment, that maybe the stars were my home. It was silly, but after some speculation I thought that perhaps it was the familiarity and memories that came with the stars that made me love them so much. Every moment spent standing outside and looking up at those gorgeous stars was always filled with wonder and joy, love and thoughtfulness, peace and hope. These feelings and moments were in solidarity, but that doesn't mean I felt alone. Those special stars keep me intact, reminding me that wherever I was I would always have the stars watching over me.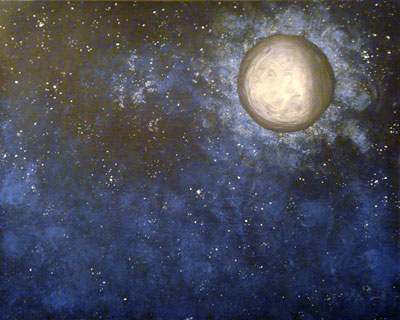 © Allison H., Vancouver, WA