Faith, Trust, and Pixie Dust
May 17, 2017
Whenever someone should say they don't believe in fairies, as a consequence, a fairy dies. In Disney's Peter Pan: Return to Neverland Tinkerbell's light when out when Jane did not believe in her. I believe in Tinkerbell. I believe that having faith and trust and a little bit of pixie dust is the way to fly.

My mom has always told me that I am Tinkerbell. Small, angry, and stubborn. I am a person with many flaws, but the only way I can excel is if there's faith and trust. Like a fairy, people need to be trusted and believed in to thrive.

A few years ago, I felt like I couldn't be myself with my family. My parents didn't trust me with anything and as a result I was stuck and afraid. In the sixth grade we were rebuilding our house and when we were visiting the site, my mother told me about the new alarm system that was going to be installed in the house and she looked me in the eyes and said, "so you don't sneak out." I was 12 and had one friend who only kept me around out of pity, I did not know what she meant by that. I never did anything and I rarely left the house. When I was 13, I was telling my mom a story and I had mentioned a thought I had, key word thought, and she cut me off to tell me that I, in fact, did not think what I had told her. She began to strip me of my identity by telling me what I did and did not think and giving me multiple reasons why she did not trust me. Consequently, I didn't feel comfortable with her and I didn't feel comfortable with myself because she stopped believing in me. My light was going out. After a year or so I was able to make more friends who made up for the lack of trust from my mother, I got stronger and more confident and more driven. I felt like my light was back on.

Everyone is a fairy. I always have some faith in myself now because if I'm not going to get it from others, I can do my best to keep my light on. It may be dim, but at least it's on. I trust my friends and I believe in their dreams because I know everyone needs faith and trust to live. I support them through their goals and fantasies and mistakes. I will never stop believing in my fairies.

Just like me and my friends, fairies are perfect and flawed, but I have to believe for them to exist. People need to be trusted to be themselves or else they will experience the unfortunate death of a fairy spirit. It is near impossible to be successful and to be the best self one can be if no one is there for support. I believe in fairies because, if not, Tink's light will go out.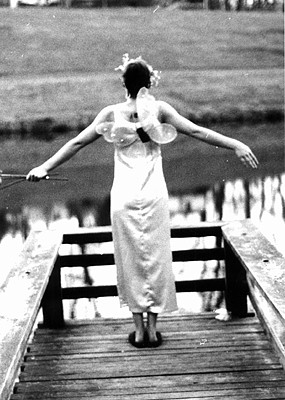 © Jennifer T., Cincinatti, OH