My Dad
May 11, 2017
My dad was once a great guy who had his life put together and had a very good job. He cared so much for my mom, my siblings and I. He would always go outside and play around in the yard with us and he was always building something of some sort. Throughout highschool and college he played soccer, he was so good that he almost went pro. He ended up hurting his knee to the point he had to quit forever. He was supposed to get surgery and never did. Then working in construction, he ended up hurting his knee even worse and had to get a knee replacement.
My dad had just gotten back from a rehab center in Memphis for alcohol abuse. For years, he was an alcoholic and I finally thought we could all be a family again without all the stress of my dad. He ended up getting knee surgery in December. I thought that the surgery all went well. Months after this, he just was not the same anymore. He would fall asleep in the chair downstairs, always be angry, very drowsy, and could not remember a lot of basic things.
Things were very weird around my house, my parents started fighting all the time, almost every night I would not be able to sleep because the sound of them fighting would keep me up. I never knew why my dad was acting this way and why things around my house were so tense. Soon to find out about a year and a half later, my dad was abusing his prescription pain pills. It all made sense now. I always questioned his sketchy behavior but I never knew what the problem was. His addiction had gotten so bad that he was steal my mom's medicine, he would go to his brother who was prescribed pain pills for his surgery and get them from him, and he even broke into my cousins house to steal his medication. He went as far as crawling through a dog door just to get ahold of this.
There was story's going around the neighborhood about people's houses and cars getting broken into. We would find empty purses that had been stolen in the creek right behind our house. I hadn't thought of anything besides some stupid teenagers doing these things. Come to find out this was most likely my own father breaking into peoples houses and cars just to feed his addiction. After years of dealing with my dad's issues, my mom had kicked him out of our house and he went to live with my grandpa.
On my 16th birthday, about 2 weeks after he had been kicked out, I got a call from the police station. My dad had called me to bail him out of jail. He took his addictions to the extreme and was driving was very intoxicated and under the influence of who knows what types of pills. He was going 130 mph on the highway in the pouring down rain and crashed into a minivan, hit both sides of the median and flipped his car. The minivan had a mother and her two children in the car and thankfully no one was hurt. At this point I was so fed up, I told him that he can suffer the consequences and stay in jail, for he did deserve it.
There is so many things that my dad did that was just completely shocking. I never knew someone could be so stupid and hit rock bottom so many times and still not recover from that. At one point, he would not answer calls or texts, no one knew where he was, we didn't even know if he was alive. About two months of not seeing or hearing from him, I somehow found out he was living with a girl and giving her and her children money and a place to live, when his own family and kids struggled to maintain their own. After finding all this out, I lost all respect for him and decided that it is better without him in my life.
My dad taught me so many life lessons and made me the person I am today. He definitely influenced my life in a very negative way but also, going through all of that made me realize the seriousness of addiction and what it can do and i made me a better person. I know now that everyone has their own struggles of life and you never know what is happening to the people around you. His struggles and decisions he made taught me a very valuable life lesson and I hope that no child ever has to go through the things that I did and the things I witnessed.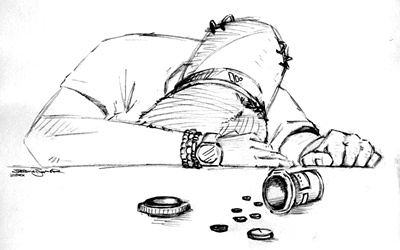 © Jeremy B., Austin, TX