You've Got a Friend in Me
May 11, 2017
One of the most fulfilling matters in life is finding good friends to surround oneself with. Finding someone that one connect with can be hard; yet, the best friendships form out of the most likely of things. For example, I once found a friendship over a shared love for One Direction and most importantly, the curly-headed frontman Harry Styles. However, as one grows older, these naive friendships over pretentious interests seem to fade quicker than the cute blue jeans I once got from my friend for my birthday. Friendships can be hard, especially in high school where everyone is finding themselves through their moodiness and sleep deprivation. I have been through multiple friend groups since I began Mount Carmel, which I am sure many others can attest to. Although the girls in my past groups have always been friendly and enjoyable to hang out with, there was something missing. Nevertheless, this year I believe I have found a group of girls that will one day be my future bridesmaids.

My new group formed in the weird time of the year following Christmas break when life feels a little hazy. The girls that formed the group consisted of some of the girls that were a part of my previous lunch groups. We all witnessed drama slowly boiling in all of our separate groups, which is why we felt the time suitable to start over. As a matter of fact, the name of our group message in the beginning was named "New year, new group." The first couple of lunches were awkward, considering the people I assembled in the group never even spoke to each other before. Consequently, the sound of crickets echoing during an awkward pause in conversation was replaced by the background noise of eighth graders yelling in the cafeteria. However, everything changed after a Saturday night of hanging out together.

On the morning of Saturday, February 5, 2017, the upcoming day looked to be uneventful. My group and I had to attend Habitat for Humanity with our eyes barely open in weather that made it impossible to move one's fingers or toes. The day seemed like it was going to be awful since there was just a sliver of the sun picking out through the clouds in the morning. My group and I eventually positioned ourselves on the front porch because that was the only place where the sun created the perfect warmth for the skin. Because all we were doing was repainting the house a dark peach color for the one hundredth time, we started talking and bonding over things. The situation was a difficult one as we occasionally had to stop talking due to the deafening sound of the power tools. Yet, who knew the best place for us to talk was in the middle of the Ninth Ward while our clothes were splattered with paint? We resolved that night to do something all together. That night, we went out to eat at Reginelli's and then we had a sleepover. All of us connected in unlikely ways that night when we babbled on about everything from what makes us laugh to what makes us cry. We stayed up until we saw the early morning sun shining through the windows. From that night on, my group and I have been nearly inseparable.

I learned from this event that the most unlikely incidents happen when one stops looking and lets life happen naturally. Since that Saturday night, we have done so many more things together and bonded so much more. For such a long time, we were only staying in our group because it was large. However, we realized that a sizeable group only creates more friction amongst others, which is why our groups consists of five people. The memories I have made while in this group have been some of the best memories of high school. I am excited to see what the future has in store for us.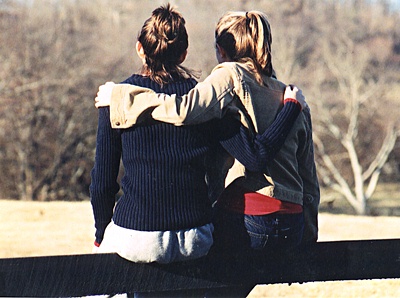 © Jaime M., Wichita Falls, TX