Palm Trees and 90 Degrees
May 3, 2017
I felt on top of the world, literally. I looked out the window to see the beautiful ocean and islands that were so blue and bright. "We will be landing in St. Croix in approximately five minutes!" confirmed the flight attendant over a speaker. I couldn't wait to finally be living with palm trees and ninety degree weather for a whole week!
It was last summer, in July when my family and I took a trip to St. Croix in the U.S Virgin Islands located in the Caribbean Sea. I love traveling to different places, especially when it involves nice beaches, warm weather, and great island food. I had the time of my life on this trip and I really wish I could relive it all over again.

The night before, I finished all my last minute packing by managing to shove everything I needed into my suitcase. I got ready to go to bed and was prepared to wake up around five a.m. I could not get to sleep. I was up tossing and turning almost all night because I was so eager to be in St. Croix.

When it felt like I just got to sleep I heard my mom yell, "Maci, it's time to wake up and get ready."

"Okay," I mumbled. I was tired but I got right up. We were all ready to go to the airport. My parents, my sister Mackenzi, my brother Max, and I stumbled out to the car; it was an early flight but we made it to the airport right in time. My siblings and I fight a lot but we also get along very well. All three of us were thrilled for this vacation. As we arrived, we met up with my grandparents, who are my dad's parents, and my uncle Kent, who is my dad's brother. My grandparents planned this trip for us and it was so nice of them. My whole family was ready for our summer vacation to begin.

We went through the whole security and checking in process. It was a whole lot of waiting but finally the guy working at the airport announced, "It is now time to carefully board your flight to Atlanta, Georgia."

On our flight to Atlanta it was fun to see everything from so far above. That's why I love flying in airplanes. Luckily, I got the window seat instead of Max.

"Are we almost there yet?" Max and I complained.

"No, about thirty more minutes," our parents muttered.

Once we finally arrived at the Atlanta airport, we ate near the gate we boarded at. I had Subway, while the rest of my family ate at a restaurant I didn't like. After that, we then had to board our next flight to the Virgin Islands! Our flight to St. Croix was so long it felt like an eternity. Looking at the ocean was pretty but after a while all it looked like was a blue painting on a canvas or something. I watched movies, talked, and ate snacks to pass time. Once the wait was over I watched as we flew over the island. We kept getting closer and closer.
"I'm so excited I can hardly wait!" I proclaimed.

"Me either!" my siblings both announced. We finally landed that afternoon and, since it was a small airport we got to exit the stairs that extend from the plane. As I stepped out of the airplane, I got a whiff of the warm air and the delightful smell of the ocean breeze not too far away. We walked into the airport with the walls covered in paintings of the beach and ocean life. We heard the sounds of a band playing music from "The Little Mermaid" with their instruments, which really made us feel right at the beach.

Wow, it was hot in there since it was all open to the outdoors. We waited for our Colorado family to arrive from their flight, including my aunt Rebecca, my uncle Jason, and my cousins Sierra, Drew, and Drake. They are all so much fun to be around and I missed them so much. We don't get to see them all the time so we were so happy to reunite. We finally drove to our beach house that we rented for the week in Christiansted, St. Croix.

As we walked in, all the kids shouted in amazement, "Wow, it's so cool!" It was actually really big. It had an in ground pool on the back patio with a sitting area looking over it. The patio had a perfect view of the ocean right below. We had a tide pool right outside if we walked down the stairs, which is a pool that the ocean water splashes into. Every night it was so cool to sit in the living area with the open doors that led right to the patio and pool. We could sit out there and hear the tide splashing against the rocks. I was so happy and grateful to be here already.

The first day we went to a beach by our house. The beach was beautiful. The ocean water was bright blue and not too cold. The sand was soft and your feet sunk right into it. My cousins and I went boogie boarding at the beach and our family even played beach volleyball with some local people that live there.

"Can we get a virgin strawberry daiquiri?" all six kids pleaded.

"Yeah, I guess so," our parents responded slowly. They were delicious. We talked to some really nice people and later washed off in the resort pool. Later, on a calm night, we went out to eat at a really good restaurant some people recommended. It was good island food.

One of the best times I had was taking a boat out to Buck Island to go snorkeling. Buck Island had beautiful clear water. As my family and I went snorkeling in the ocean we saw some amazing sea animals, like seahorse, colorful fish, a barracuda, and a lot more.

"Buck Island is one of the top ten beaches in the world," the tour guide informed us. I loved exploring the coral reefs, although Sierra and I both got stung by fire coral. It stung pretty badly.

Late one night, our family went kayaking in a bio-luminescent bay. These bays are really cool and extremely rare. We can only do it at night so we can see the bioluminescent bacteria that lit up the water. We could also catch glowing jelly fish with a net. It was such an amazing experience! We swam in our pool almost every night which we really enjoyed. My siblings, cousins, and I would play really fun games that we always play together, like sardines, hide and seek, and more. I loved spending time with them because we always have such a memorable time together.

The last night of our week long trip was upon us. We went to a seafood buffet at the resort. It was delicious and I was really full after we ate. After that we went to a luau festival right outside the dining area. The St. Croix people believe it keeps the bad spirits away. There were guys on really tall stilts dancing around to cultural music. They looked like giraffes. They danced in crazy clothing that was bright and had decorative hats on.
"Let's go out there and dance!" our parents laughed, jokingly. Then we all did end up actually going out there. It was pretty funny. It was a great way to end our last night in the gorgeous Caribbean.

Unfortunately it was our last day, but I still had so much fun with my family on this vacation. I realized how important they all were to me and I was so grateful. On the last day, we wrapped up our trip by visiting the resort and swimming at the beach. We got more scrumptious tropical drinks and swam in the pool. After we went back to the house we packed up our suitcases and we had to say goodbye to the amazing house that we all loved. Before going to the airport we drove to our new favorite restaurant in St, Croix, called the Chicken Shack, for the second time. This place was on Bizarre Foods, and many other famous people had visited it, including some past presidents. It was some really delicious food!

While the sun was beginning to set, we traveled back to the airport and had to leave the island. Saying goodbye to my aunt, uncle, and cousins was hard since we are so emotionally close but they live so far away. Our other uncle, Kent, bought us some snacks and a drink for the flight home. We cried a little as we hugged and boarded our different flights.

"Bye guys, we'll miss you!" we yelled sadly to our family from Colorado.

"Bye everyone!" they all shouted back.

I was so sad that we had to leave but I knew what an amazing time I had and I will never forget it. When we flew over Kansas City, I was really happy and beyond thankful for my amazing summer vacation. I loved seeing the city lights at night in the airplane. I learned a lot from my trip. I was informed about the culture of St. Croix and many creatures there but it was more than just that; I learned to be thankful for the great opportunities I get in life because other people may not get those experiences. I learned to cherish my family as well. This trip really changed me and made me a happier person. I wouldn't trade my experiences at St. Croix for anything.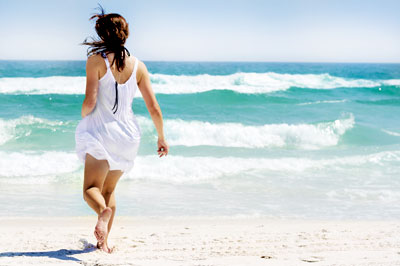 © Rebecca B., Marietta, GA