Modern Woman
April 30, 2017
i. When his eyes darted and sank into my thigh with pinch and a poke, a poem was born to commemorate the first time he touched me. Crafted of metal lust and locks came the sweet shot of immunization. And I didn't have the capacity to understand I was sick until now. And if love hurt, burn me. If it clouded minds, drown me. Just brush against me one more time, look at me when I'm laughing, look at me now. Look at me now.
ii. It is the job of a Modern Woman to make their importance known. She finds her sanctity in the folds of her own hips and the celestial gleam of her open mind. And if it must take a physical body to exist, it has no choice but to be loved. So she loves what she knows, what she holds to the light is held in her heart.
iii. It is coy of a girl, to gain importance from a boy. This I know, after four months of inconvenience and sheer isolation. From the outside crust of the earth, down to the core of my being, obsession consumed me. I wasn't obsessed with him, maybe just the idea. The idea of him wanting me like I was really a pretty girl, a prize to be won. The idea of him sitting closer and closer to me, until his knees are rubbing against the sheer fabric of my skirt. And it wasn't a dream, because he looked at my chest as my breath levitated. He leaned into the isle of the bus when I spoke. A chronic idea of lucidity swarmed between us, I was seeing through a fishbowl, just what it was that I wanted to see. If he was ignoring me, it was because he wanted me so bad it scared him. Every worst case scenario numbed down from the release of the needle. Poison swarmed amongst the fish in my veins, slashing through the skulls of my love. And my love just kept weeping, severed from the sure sense of maturity. I was a child. A girl fooled into believing she was any better than what she was.
iv. A Modern Woman doesn't sweep unless her it is her own mess she's cleaning. She doesn't trick herself in order to gain affection. She is loved by the people who surround her, and those who return her love are not clouded by a false reality.
v. Love is a scam. Love is a pop-up ad where your thumb lays. Love is a broken bungee cord, breaking the air as you fall. Love is ill-advised, sitting amongst the cards and bouquets on your bedside. When an IV is all that's keeping you alive, it is peachy keen to believe God loves you, and will let you go if it becomes too much maintenance to live. Out of the multiple occasions where dying would be a better alternative to seeing his face stuffed up against another, faith smacked me in the jaw. And if I was going to keep getting hit, I would never kiss a boy or marry a man, let alone express love for even daily encounters. Wallowing is pools of pity would hold me back from becoming any aspect of a Modern Woman. My rein of hate would diminish at the end of this sentence.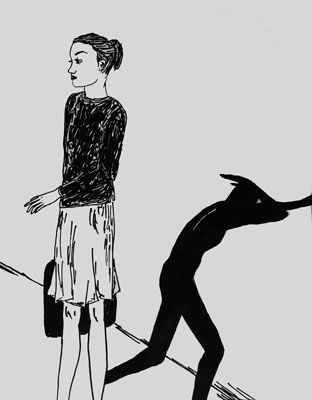 © Natalie D., Ames, IA