Don't Give Up
April 10, 2017
The cliched "ancient" grandpa would say, "I remember it like it was yesterday", and I remember it vividly, mostly because it was less than a month ago.

My eyes were tearing and my heart ached from the words I received from my mother. She was extremely disappointed, and continuously glanced at the computer from time to time.
"This isn't the Shenn I know," she speaks in Filipino, staring at the computer and then staring at me. "Your grades are unacceptable. Since when have you ever reached this low. An 86? An 87? An 81?!".
Alright, let me pause there.

I understand that the 80's aren't that bad, but being in a family that has a focus on good grades, would change your mindset on schoolwork.

Returning to my story, I begged her not to speak to my teachers, I "cried my eyes out". After an hour of weeping, the storm has calmed and both my mother and I agreed to let me raise my grades for the next marking period, or else she speaks to my teachers, and who knows what else she had in mind.

A week after, I received my report card, and even though she and I agreed, she refused to sign it. However, that night, I got a lecture from the person that I thought cared the least. It was my big sister.

She cried. She actually cried. And placed herself on a nearby chair in our shared room.
With her being 19 years old, I would've thought it would be her who had her "adult-ish" problems to deal with, and that it would be her who would laugh at mom's outrageous response to this measly problem.
She stared at me for a few minutes, her eyes sad, but sharing a look of anger.

She spoke up, "Don't take this for granted. Don't take what you have for granted. You are handed education , and you're here acting like a spoiled, rich, privileged child".

Then, she stared at me with confusion in deep in eyes, "Do you actually not care about your actions? Tell me the truth."
"No, I don't, I'm sorr—"
"Don't say you're sorry, because you're not".
She continues,"Do you know the reason why we're here?"
"Because mom got a job in America, so we had to move?", I guessed, hoping this would lighten the mood, but of course, it failed.

She corrected, "No. They are here because they want us to have better futures than they did. Don't you remember our lives in the Philippines? Don't you see the difference in our upbringing and our cousins?! We have all of this education and you, you push it away like your future doesn't depend on it."

Fast forwarding, she told me, "have a goal". That night, at 12 in the morning, I stared blankly at the cream colored walls, and asked myself, 'what could be my goal?' and I silently lay there, slowly dozing off into a deep sleep.

That week I studied, and though the work was strenuous, it built me up. I got very high grades, including a 100, each one plastering a smile onto my face. I was back and better. Cross that, I AM back and better. Limiting my free time, I added in more studying and reading, and came back to what I felt more comfortable with; writing. Everyday, in ELA, my teacher would hand us our laptops to work on our projects on, and luckily, thanks to my "skills", I easily finish those assignments the week they are given. I continued the book I was and still am writing, and with each letter I pressed, my adrenaline raced faster.

As the period ended, I closed the laptop and put it back in the cart, satisfied with the ,work I accomplished that day, and realization hit me.

That is my goal. To become a writer, an author.

As for now, I am taking tiny steps, having a group of family and friends support my decision. Each happy, with a smile on their face, cheering me on as I write my own story (no pun intended).

To close, don't give up and have a goal. Though we are young, we are the new generation, and it is important to create a goal that we strive to achieve.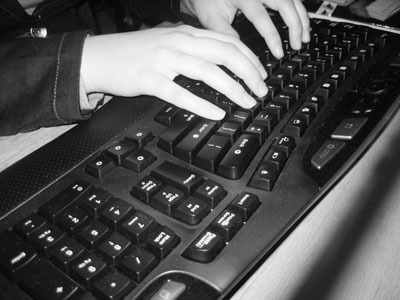 © Paige R., Perry, OH