Because I Care What You Think
April 2, 2017
It was pointless to go, but I didn't really have a choice. I shoved my hair into a quick messy bun like all the girls at school do, but mine was no artwork. I slipped out of my pyjamas and into a red button up collared shirt with my school's logo on over my heart. My ripped black jeans almost too big to stay on my body, have I lost weight? With 20 minutes to get ready the thought passed my mind and I threw on a belt on the way to the bathroom. I painted on my face with a layer of makeup to cover up all the acne, forehead lines, and the uneven skin and blotchiness. Putting on the makeup did me no good, I actually kind of hated having it on, it made me feel sick as it clogged my eighth grade pores, but I guess it was better than no makeup, right? I look terrible without it, that's what you thought right?
Ever since that one day in the seventh grade I haven't felt the same. As a kid, all throughout elementary school I enjoyed school for the most part, I was so care-free back then, what happened? When I got to middle school it was so much different, I was in an unfamiliar environment lacking the confidence to speak up without being stared down like a ladybug under a microscope. I went to my first class which was Art. I sat down at the table with a girl I knew from elementary school, we weren't close friends but I had gone to one of her birthday parties before. Then two other girls, ones face familiar for some reason, and the other a complete stranger. Sooner than later we all became really close, we talked like we had been friends for years.
One day the girl who I had been to elementary school with, as usual threw some rude comment but she always does that. This time she asked, "Who do you think is the ugliest at this table?" She then smirked and said "I think it's her," as she pointed towards me. I knew she wasn't the nicest to begin with so I brushed it off. The girl who looked familiar was actually in my homeroom and we became really close friends within a few months. It was her turn to answer and I gulped, trying to hide my face behind the painting I was working on. I thought she would refuse to answer such a question because after all I thought we were all friends here. Instead she turned to me and announced that her answer was me.
I was just an answer to a question at this point, and deep down in my heart I felt something horrible. It felt different, I had never felt something like this before and I didn't like it. I wanted to disappear so bad at that moment and I choked back the tears that would have otherwise poured out like a pitcher of lemonade on a hot summer day. I thought what they were saying to me was true because after all, I care what you think, and that's one of my flaws.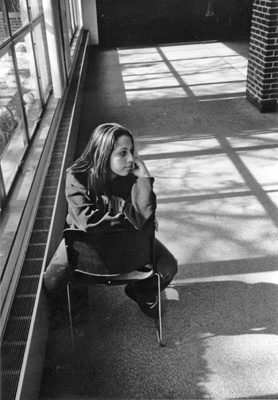 © Leighann E., Westport, MA