Guardian 2014
March 3, 2017
One day in January of 2014, my parents, my sister, my best friend and I were in high school watching the wrestling matches. My older brother, Hunter, was on the team at the time. My grandma Cindy called my mom, while we were at the wrestling meet. My mom had left the gym and went outside so she could talk to my grandma. The next thing that I know my mom comes back inside with her eyes watering, like she was crying. She asks my dad to come outside with her, and so he did. After a while I got worried and I went outside to check on them, but my mom was crying and my dad told me to go back inside.

Once the wrestling tournament was over, we had to take my friend Jacob home, in Byron Center. At this time mom had been done crying, but the ride to Byron Center took what felt like forever. After we dropped Jacob off, we were on our way back to our house. Mom had something really important to tell us. She had told us that my grandma was diagnosed with cancer.

For the next several months my grandma had to do weeks of radiation and chemo. She had lost her hair, and we had to give her a wig, she would not leave anywhere without her wig. In March 2014, they had told my grandma that her cancer was gone. They said that there was a potential that there could be a cancer cell hiding in her esophagus, where they could not see or remove. The only way that they could completely get rid is if they gave her surgery to remove the top part of her esophagus and insert a stent there. This could've caused her to have a rough time eating, or potentially cause her not to eat at all. She said No, that was not an option for her.

In late August, my grandma Cindy had an appointment for a check up on her esophagus to check if the cancer had still been gone or came back. Well, it had came back. The following day she had to go back to the hospital to see if the cancer had spread, and it had. She now had cancer in her liver as well. They told us that there is no possible way to get rid of the cancer that had spread to her liver. They gave her 6 months to two year to live.
Early September they had diagnosed her with the liver cancer, she was walking to the bathroom and had fainted by the bathroom door and hit her head. My younger sister and my parents were the only ones there with her. They had to call the ambulance and they took her to the hospital, where she stayed for a few days. The reason that she passed out was because her blood sugar was low because of her diabetes.

They sent my grandma home, making us think that she was going to get back to health and be better for a while. Well this was not the case, about a week or two after she came home from the hospital we had to call Hospice to come in and help my mother and my aunt Amy help take care of my grandma. At this point she could not walk,she could hardly talk, and she did not eat any solid foods. She was very angry and she knew that something was going to happen. She knew she was sick and that soon her last breath would come.

The beginning of October my family had planned a "Celebration of Life" party, where we had food, games and had things to auction off. On Friday 3rd I was sitting in Algebra class and I remember my teacher told me to go pack my bag and that my mother was there to pick me up. Instantly my mind went bad and I was bawling my eyes out on my way down the hallway to where I found my mother.

This was the day that she told me and my siblings that my grandma had only a couple days, at most, to live and that we had to tell her our blessing and goodbyes. I remember that I wanted to be the last one to talk to her, and that I wanted to talk to her with no one else in the room.

I said to her "Grandma, Grandma Cindy… I love you, and I know that you are in a lot of pain and I know why you are holding on, but I want you to know that I am okay, we are all okay and we want you not to suffer anymore."
As I grabbed her hand to hold it for one last time, she squeezed me and slightly smiled. Which she hadn't been able to do for a few days now, let alone anything else.

All I can remember is on Monday October 6th, I got that same call from the office, to head down, it was time to go home. My mother was waiting in the car for me this time.

She asked me, "Do you know why I am here?"

"Yes, Grandma passed away," I said as I was crying. I asked my mom if she had suffered or left painlessly.
My mom said that she passed away in her sleep around 11:30am. She said that she felt a weird breeze coming from the porch minutes after my grandma took her last breath and the sun was shining into the house while the door was wide open. My mother still thinks to this day that my grandma Cindy's parents came or her husband Ronald came and got her spirit in a mysterious way. Our family now knows that we have an amazing guardian angel watching over us.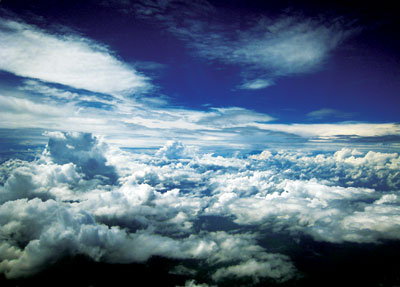 © Jacob W., Oklahoma City, OK