Everything In Sight
February 21, 2017
With my back rested against the white wall, I glared down the hallway that looks like a prison. The feeling of loneliness takes over every inch of my body. My heart beat begins to pick up speed and my mind goes numb. Beds line the hallway and people wearing white coats pace around attentively. Only five seconds ago hearing the nurse say that, "there is a 95 percent chance that if it ruptures it will be fatal". At that moment I stare blanking into my Dad's eyes realizing the true situation. Something irreversible could happen to my role model, my happiness, my friend, my mom.
I begin to notice the little things in life and how grateful it is to be living on this Earth. My seventh grade mind goes racing in a million different directions, forming the belief that nothing can be taken for granted. Every pounding second I grow more and more grateful for everything that surrounds me; the warmth of the sun, the excitement of my dog, the mouth watering sweetness of cake, and the loud sound of crashing bright blue ocean waves.

I'm grateful to have anything and everything.
The sense of cold winter breeze attacking my face, I do not grow angry. I'm grateful for freedom. Feeling my furry four-legged friend pulling at the leash while trying to chase a squirrel, I'm not overcome with annoyance. I'm grateful for animals. Having been told to unpack the dishwasher, I start right away without a pause or throwing a fit. I'm grateful for modern technology. I begin to explore and enjoy the little things in life that encompass me.

I'm grateful to have anything and everything.
That mountain over there, protected by vibrant canopies of leaves, is where I reflect on my wonderful life. Most of the time my four-legged friend comes for the adventure. Following the dirt path aligned with moss covered rocks, I walk with happiness and freedom coursing through my veins. I'm grateful for the tiny perfectly symmetrical snowflakes that land all around me, all unique. They carefully pile together, creating a flawless blanket over the sparkling world. My dog trots without a care in the world and gleams with hope and bliss. I am overwhelmed with joy from her existence.

I'm grateful to have anything and everything.
My paint brush glides across the canvas, leaving a beautiful streak of blue. I'm grateful for creativity. I sit isolated from society, holding 759 pieces of paper, jumping into a new world of endless possibilities. I'm grateful for books. Horns of taxis blaze pass me and bright lights shine into my eyes almost blinding me. Noticing a man sitting on the ground sleeping with only a small cardboard sign, I walk past leaving him ten more dollars that what he had. I'm grateful for kindness. The sound of rushing water cascading down a hillside, calming my never ending nerves. I'm grateful for nature. I try to stop my forever dancing feet from the nonstop beat of songs. I'm grateful for music.The sweet sugary scent of chocolate chip cookies baking in the oven on a cold winter's night fill my lungs. I'm grateful for my sense of smell. Every ticking second of the day I feel loved and wanted. I'm grateful for my friends and family.

I'm grateful to have anything and everything.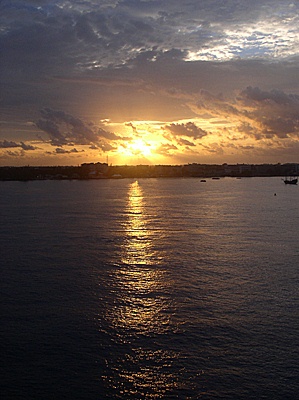 © Rebecca Y., Los Angeles, CA